India is Ghana's second largest foreign investor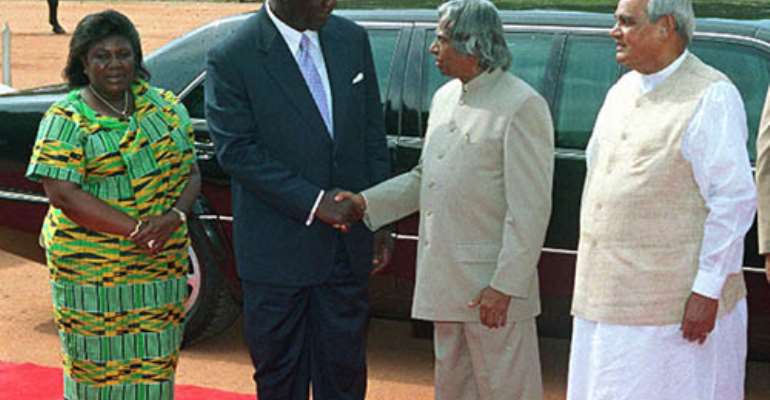 Accra, Oct 11, GNA - Mr Rajesh Nandan Prasad, Indian High Commissioner, observed on Tuesday that in the quantum of investment, his country was the second largest foreign direct investor in Ghana after United Kingdom.
Referring to Ghana's agricultural sector, he said India had single-handedly provided credit lines amounting to 102 million dollars to boost the sector.
Mr Prasad made this known when he paid an official visit to Ghana News Agency (GNA), to acquaint himself with the operations of the country's only wire service. He said the long- standing bilateral relations and Ghana's impressive democratic system had created an enabling condition to attract a number of investors from the Asian country. Mr Prasad said 50 per cent of Ghana's import was from India adding that the two countries could also cooperate in the pharmaceutical sector.
The High Commissioner spent over two hours touring the Newsroom, Systems Room, Information and Documentation and Administration Departments, where he interacted with the heads and members of staff. Mr Prasad lauded the Kofi Annan Information Communication Technology Centre (ICT) saying all efforts must be made to sustain it for the continuous upgrading of professionals.
He said he would explore the possibility of forging cooperation between the GNA and the Press Trust of India (PTI), India's official news agency in the exchange of programmes for journalists and news gathering.
Mr Prasad said under the Indian Technical and Economic Cooperation and Special Commonwealth Assistance for Africa Programme, Indian and Ghanaian journalists had the opportunity to meet, interact and share experiences.
The High Commissioner promised to provide the GNA with motorbikes and computers.
Nana Appau Duah, Acting General Manager and Supervising Chief Editor of GNA said the Agency had the largest news coverage in the country.
He lauded the exchange programme between the GNA and PTI, adding:" we will explore the opportunity". Nana Appau Duah said he would appreciate any support from India that would facilitate the personnel development of the GNA to enhance efficiency.
" We want to reactivate GNA's exchange programmes between the two countries not only for journalists but also for the staff of the technical section." He said instead of the GNA expanding, the Agency was rather losing its number of staff, while its international offices have been closed down.
"GNA would appreciate if it could get access to Science, Economics, Politics and Social stories from India to enrich its bulletin," he said.
Nana Appau Duah expressed the hope that with closer collaboration between India and Ghana, GNA would expand to help promote Ghana's development agenda.