The Voice Achievers Award, The Netherlands Releases List Of 2018 Awardees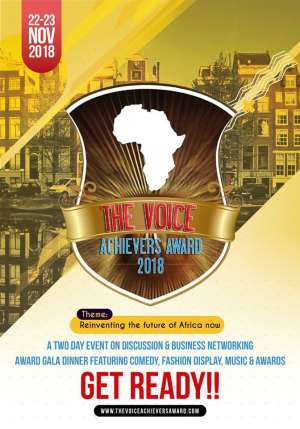 Almere, The Netherlands - 20th August 2018 – The Voice Magazine, the organizers of The Voice Achievers Award has released the official list of the 2018 winners of the Award as part of activities to mark the Magazine's 19th year anniversary. The Award is an appreciation of individuals, organizations and professionals that have made exceptional contribution towards the advancement of Africa and her people in various fields of human endeavour. This year's list contain multi-facial recipients drawn from around the world.
The awardees will be recognized on November 23rd at the annual "The Voice Achievers Award" holding in Amsterdam, The Netherlands. Preparations are underway to celebrate the winners at African's most elegant ceremony in Amsterdam, The Netherlands.
It is a two-day event commencing from 22nd of November with a round table discussion/business networking on the theme: "Reinventing the future of Africa now". A panel of discussants will interrogate this subject in an interactive session with the audience. There will be an exhibition of goods and services across the hall, thereby creating a window for the exposition of your goods and services. This is a strategic opportunity to promote your businesses and services to a unique audience.
The 2018 Award Committe, rigorously and meticulously chose from a pool of prominent nominees for their notable accomplishments in various fields of human endeavour - businesses and service to humanity.
As it is in our tradition, the unblemished and conscientious work of our Award Committee bears its testament to these wonderful set of awardees for 2018.
Below is a complete list of 2018 Awardees.
Governor Godwin Obaseki, Executive Governor, Edo State - Nigeria
Arabinrin Betty Anyanwu-Akeredolu, First Lady of OndoState - Nigeria
Dr Osahon Enabulele
Miatta Fahnbulleh
Patrick Ngambi
Gloria Jones
Patti Boulaye
OBE, Emeka Okonkwo (E-money)
Her Excellency, Ambassador Vestine Nahimana of Burundi
Mr. David Smith
Princess Tokunbo Adenike Ajayi
John Bunyeshuli
Pastor Chuks Anizor
Margaret Anizor
Terabel Marini, Don Ceder
Abada Iwuchukwu
Ambassador Charles Onyebuchi Onyieke
David Smith
Funke Oshonaike
Owuor Jakano (DJ)
Tony Airhenbuwa
Uche Nwatarali
Christine Among
Sunday Eromosele
Mary Tataw
Princess Tina Amuziam
Joy Zenz
De Cardinals International Friends Club
Assumpta Gahutu
Eve PAMBA
Dr. Angela Okemena Unufe-Kennedy
Gideon Boateng
Lilian Ogechi Esoro
Shan George
Prince Afolabi Obasuyi
Hon. Osaze Osemwegie-Ero
Iwan Wilfred Leeuwin
Dennis de Almeida
Muzaffer Kosan
Shirley Ogechi Igwe.
The Voice magazine has been a trusted name for almost two decades, communicating news, events, promoting businesses and connecting consumers to top-rated services across the Diaspora. We provides unique media tools and support business activities to improve the local service experience for both clients and consumers.
"The award honours top on the ladder of success stories and recognizes upcoming individuals whose ambition is to make it to the top. It is a blend of the young and the older generation to share experiences and exchange ideas and network for future advancement of their services.
The Publisher and Chairman of The Editorial Board of The Voice Magazine, The Netherlands, Elvis Iruh, sums it up: "It is our belief that the Award winners will continue to have significant effect on the advancement of Africa and her people. Through the support of their businesses, hard work, social activities, philanthropy, service to humanity, academic and personal development skills, we are simply encouraging you to continue the good work because one day you will be publicly appreciated and acknowledged. It is our obligation to empower and inspire the younger generation coming behind to improve the life experiences of others through their career and other works".
The Voice Achievers Award will host 'a dress to impress' Award Gala Evening at De Koning Party & Event center, Amsterdam. The event will showcase the awardees and celebrate their success stories.
For more information & Media Contact: The Voice media department
Elvis Iruh: +31648519292
Abeka Salmin Abdallah: +31629340503
https://www.thevoiceachieversaward.com
www.thevoiceachieversaward.com