Kudos, Kofi Darko Asante! You've Burst Through The Culture Of Indifference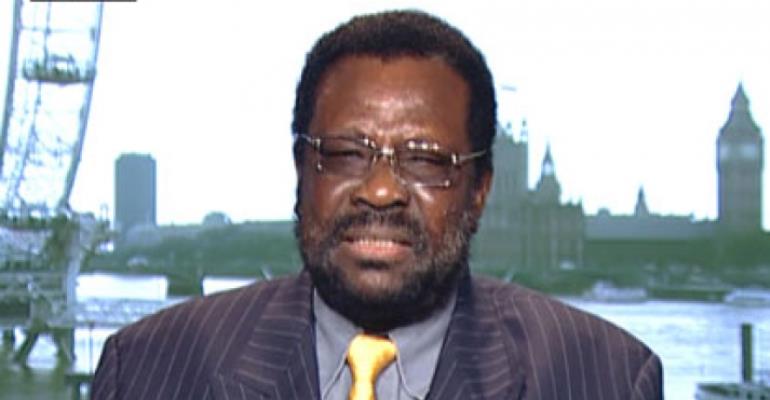 IT would have been easy to be overwhelmed by the sheer grandeur of the durbar held at Kyebi on 23 August 2018 by the Okyenhene, Osagyefo Amoatia Ofori Panin, at which the Asantehene, Otumfuo Osei Tutu The Second, was the guest of honour. But as you will soon see, that didn't happen to one individual who was at the durbar.
The durbar was held to commemorate the 75th anniversary of the death of Okyenhene Nana Sir Ofori Atta The First. Of late, reports of rancour between politicians of Akyem Abuakwa and those Asante had made it to the media and everyone was wondering whether the Asantehene would really grace the occasion and if so, at what level.
But the sceptics were shamed when the Asantehene arrived with 21 of his Amanhene, each with his own retinue. And the Okyenhene welcomed them with his own Amanhene and their retinues.
So, just imagine the amount of gold ornaments that were put on display on the physical persons of the chiefs who made the journey and those they came to find. These two states were the lands whose rulers were described in ancient times as "Ahempon a wodi sika atomprada" (Kings who expended gold in its unrefined state!)
Talk also of the richly-coloured hand-woven cloths of incredible craftsmanship that adorned the chiefs; of umbrellas of various sizes and patterns drawn in all the colours of the rainbow; of caps and head-gear; hand-held weapons of intricate design, some decorated with amulets. All this tastefully out-doored after many moons concealed in dark vaults in the belly of royal palaces. In every meaning of the word, a sight to behold indeed.
And don't ignore the soundsthat were to be heard. Drums: vying with each other in what those who were deaf to ancient speech would have found to be but a cacophony of noise, but to the initiated, immaculately crafted poetry that was so sonorous that it could be translated into the beat of drums; poetry that proclaimed the great deeds of the leopards, the elephants and other mighty beasts whose strength was borrowed by our bard ancestors to clothe current Kings and chiefs.
Finally, musical instruments carved out of the intricate horns of unusual forest animals and fashioned in such a way that they could imitate the diction of sages so adept at employing language that their words could be blown on horns and yet be understood by the human ear.
Add to all this the voices of human minstrels specially trained to praise their masters' past deeds, sometimes speaking in a historically dead vocabulary passed down the ages and not even understood by those trained to declaim it. Incantations like "Zior!" and ....."N'ngeeeeng!"which, to the modern ear, might sound like the gibberish babbling of a Caliban, but which in past years, were uttered to inspire monarchs to match the deeds of their valiant predecessors, whose power and wealth lay everywhere around them, including their persons.
Yes, two giants of Ghanaian culture; two branches from the same Adanse-Tree, had decided to unite in parading their finery before each other in friendly acknowledgement of a common origin too often relegated to the ancient past. It was awesome to watch; uplifting to understand what the eye saw happening.
The two Kings spoke of what had brought them together on this auspicious occasion; their personal friendship and also, how their two Stools had combined together to achieve important historical objectives. For instance, Nana Sir Ofori Atta, in whose honour the event was taking place, had played a pivotal role in securing the repatriation of Otumfuo Nana Prempeh The First from the Seychelles Islands (whence he had been unjustly deported by the British colonialists). And Otumfuo Nana Sir Agyemang Prempeh The Second had united with Osagyefo Nana Ofori Atta The Second, in the fierce political struggle of the mid-1950s, whose principal objective had been to secure a fair price for Ghana's cocoa farmers.
As I watched the spectacle, a bizarre thought crossed my mind: how could the vibrant culture of these two peoples have given birth to today's generation of earth-wrecking vandals who do not scruple to destroy their own people's drinking water?
Malefactors who use excavators, bulldozers and changfang machines specially imported from China to dig up ancient riverbeds, in a mad search of gold?
I asked myself, who are the felons who constitute the great majority of galamsey operators in Ghana? Are they not mainly the sons of the gold-bearing soil of Asante, Akyem and their Akan cousins in Fanteland?
How come people can be taught to play the drums and declaim the ancient praise-songs of their Stools but cannot be bothered to study how the enormous amounts of gold finery worn by their chiefs was procured in such a proficient manner that it left the water-bodies and farmlands unspoiled? Did they not know that if you want to dig for gold, you must learn how and where to place your pits; where and how to wash the sand and pebbles you bring up from underground so as not to pose a direct and indirect danger to the populace?
How can people work their hands to the bone to educate their children, and yet be so lacking in common sense that they can sit by and watch unconcerned, while these so-called "educated" people or akrakyefuor import Chinese fortune-hunters into their country, smuggle them into farms and keep watch for them whilst they dig for gold​?
Akrakyefuor and asikafuorwho facilitate the digging of gold in such a haphazard manner that when they leave the rivers, only muddy water and poisoned wasters are left; and when they leave a farm, not only are deep cratersleft to be filled with greenish, algae-infested water but also, heap upon heap of soil that forms tall ridges upon which it is impossible to find a path impossible merely to walk, let alone use it to plant plantain, cocoyam, cassava or maize?
As I watched the display, I realised that in Ghana, we now live in a surreal world made up of two layers – an outer layer that presents a most beautiful spectacle to the stranger, in the form of our manner of dressing and our immaculate attendance at churches; our eloquent turn of phrase; and our philosophical approach to life – while, if you pry open the thin layer of skin on the surface and get to the flesh you find what? An inordinate lust for money that overrides both our traditional beliefs and our imported epistemology. A country in which churches are led by priests who make a living out of fleecing those afraid of death; where we have self-styled "leaders of morality" who chair publicly-financed banks and turn them into private treasure troves.
And the country watches and mostly says nothing about any of it. It is "impolite" not to "stand by" those God has provided to us as spiritual leaders!
I was crying in my heart as I watched the fantabulous Kyebi durbar; crying over this paradoxical situation we face socially of keeping mute in the face of disaster, when – the microphone was given to someone I couldn't at first recognise.
The man began to speak. It turned out to be my old friend, Kofi Darko Asante. Two sentences and he was already on his way to the nitty-gritty. Our chiefs should please offer serious support to the President, Nana Addo Dankwa Akufo-Addo, in his endeavour to stop galamsey, which is destroying our water-bodies and farmlands, he pleaded.
"When I was a at Prempeh College and coming home during the holidays" (he said) "the trains from Kumase used to stop at Anyinam, in Akyem Abuakwa. That was the longest stop. Why? All the train's passengers wanted to drink water there!
"Water from the river, Birem Abenaa. Today, when I go to Anyinam or any of the Akyem town where I have family, I drink sachet water ["Pure Water"!] I have to drink "Pure water" at Kwabeng. I drink "Pure Water" at Apinamang. I drink "Pure Water" at Abomosu! For Birem Abenaa, whose purity once made the Akyems boast proudly: "Meye Akyenkwaa a menom Birem"
("I am an Akyem who drinks water from Birem River!) has become a mud-filled, discoloured trickle of water.
Mr Darko Asante made a vigorous appeal to the chiefs to back the anti-galamsey struggle. They were not as "powerless" as they seemed to claim, he pointed out. For people told them things.... They knew what was hurting the people.
Will he be listened to?
I don't know. But I would like to inform our chiefs that Kofi Darko Asante is a trained diplomat who would not have found it easy to speak up publicly as he did, aware as he is of the demands of so-called "protocol" . What he was doing was to use his training to alert the high and the mighty of Ghana to the disaster that they are courting for their people with their current apathetic attitude towards the destruction of our water-bodies. He certainly deserves the thanks of all Ghanaians. He has done his bit. It is left to the rest of us to do ours.
Kofi, ayikoo! [Well done!]