Bank Robbers In Ghana's Mafiocracy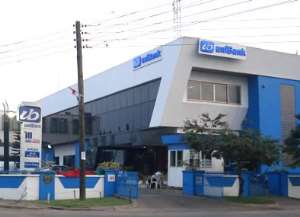 In recent times, Ghana has been under a Mafiocracy regime. "Mafiocracy" is the rule of an elite cabal of criminals who believe that they are untouchable and unaccountable to the legal system and are entitled to certain privileges to ensure their economic, social and political status in the society is maintained.
This elite cabal are nation wreckers, economic parasites and bottom feeders who contribute very little in terms of productivity and have an over-bloated image of their importance to the society. They build walls, hedges and barricades around their communities ostensibly to prevent their ill-gotten wealth from being looted, but we know that these edifices are to prevent them from being attacked by the poor masses who they've been cheating.
Ghana is at a crossroads in dealing with its toxic financial industry practices. This toxicity has created an environment which has allowed a new set of criminal educated elites to fester. This elite class operate in what is now called the Mafiocracy Kingdom. It is where a cabal of thieves, fraudsters, conmen, and charlatans who dress professionally in designer suits, live in airconditioned houses in gated communities, work in posh offices and are chauffeur driven in expensive, high earned luxury cars and perpetrate sophisticated, massive criminal acts at the expense of the general public.
These same people are eager to condemn the petty thieves on our streets, but are unaccepting of their own criminal actions because they believe they are entitled to such high society life and must not be accountable to any law because of their connections, contacts, friendships and networks, as well as their social status and religious pedigree. They believe that their criminal acts are above-board because they are not usually violent in execution.
These so-called elite, thieving rogues measure their accomplishments in terms of empty titles and processes, and not in terms of results and outcomes emanating from their actions. They are nation-wreckers who look down with contempt on anyone who dares to challenge their social and political standing. They are supported by a brigade of ignorant population who are gullible sycophants and are hero worshippers, who dance to the tune of their masters in anticipation of the crumbs that fall from their master's table.
These criminal acts are happening because we are a lawless country. We have an Attorney
General who appears to have no clue of her law enforcement responsibilities. We have a
regulatory body(Bank of Ghana) which has become a criminal enterprise providing licenses for
stealing from the public and harbors hardened, paper-pushing bureaucratic criminals. We have
accountants and auditors who now facilitate criminal transactions with fraudulent reports. And
lawyers and judges who have perfected the art of abusing a compromised legal system to
frustrate the efforts of society to bring order and to deny the basic equitable justice that the
society so demands in a transparent, fast, efficient and effective manner. We have political
leaders who are inept, have no morals, no ethics, and lack courage, vision, honesty and any
consideration of the plight of the poor, the needy and the general citizenry and therefore unable
to improve the quality of life of the society. And further, our moral and ethical standards have
been hijacked by a religious regime headed by modern-day conmen who have no feeling for the
lost, the needy, the left-out, the poor, the destitute and the very people who produce the bulk of
the productivity of the nation.
It is with these above that one finds it interesting to define who a bank robber is. This will enable
us all to comprehensively include every single person who steals from a bank. Any fraudulent
act perpetrated by anybody to obtain funds from a bank in a manner inconsistent with the bank
owning the funds is bank robbery. It is well understood by many that bank robbery is committed
by people holding a gun or a weapon to violently seize funds from a bank. In a sophisticated
environment however, it is well known that the best way to rob a bank is to own a bank. In
Ghana in particular, the best way to rob a bank therefore is to fraudulently obtain a license from
the Bank of Ghana. By owning a bank, a bank robber has unfettered access to the vaults and
the deference of the security guard to enable him to enter the vault to steal from the bank.
These "keys" to the vaults are assembled in a technological era as keystrokes to a computer
and pens to a paper to execute the fraudulent exercise.
It is therefore important to debunk the conventional thinking that bank robbers are only those
who come with guns, cutlasses and cudgels in their hands and wear hoods over their heads and
threaten violence to bank officials in order to steal from the bank. Bank robbers include bank
shareholders, board members (including Chairmen of the bank and the CEOs), as well as the
executives and senior management of the bank in cahoots with their criminal conspirators at the
Bank of Ghana. They are therefore those wearing expensive designer suits and silk socks,
designer "white shoes" in air-conditioned offices drinking tea and coffee from Royal Doulton
China and perpetrating multi-million and sometimes multi-billion dollar heists with their networks.
With such understanding one can authoritatively say that:
Ato Essien is a bank robber!
Mensa Otabil is a bank robber!
Kwabena Duffour is a bank robber!
Kwabena Duffuor's son is a bank robber!
Ibrahim Mahama is a bank robber!
Their friends and cronies are bank robbers!
And several employees of the Bank of Ghana are bank robbers!
A bank robber is a thief.
Therefore:
Ato Essien is a thief!
Mensa Otabil is a thief!
Kwabena Duffour is a thief!
Kwabena Duffuor's son is a thief!
Ibrahim Mahama is a thief!
Their friends and cronies are thieves!
And several employees of the Bank of Ghana are thieves!
A bank robber or a thief is a criminal.
Therefore:
Ato Essien is a criminal!
Mensa Otabil is a criminal!
Kwabena Duffour is a criminal!
Kwabena Duffuor's son is a criminal!
Ibrahim Mahama is a criminal!
Their friends and cronies are criminals!
And several employees of the Bank of Ghana are criminals!
And all these means God is good, because God loves the bank robber, God loves the thief, and
God loves the criminal, but God wants them punished, and punished severely! Furthermore,
God is good only to those who show gross effrontery, daring boldness, supine insolence,
unbridled arrogance to think that God has given them a special place to calm the anger, the
outrage, the annoyance, the frustration of the general public to allow them to perpetrate their
criminal acts without being arrested, charged, prosecuted, bankrupted and incarcerated for life.
It is time for the Attorney General to order the arrest and prosecution of these three sets of
criminal gangs:
● All Bank of Ghana staff involved in issuing fraudulent licenses in exchange for bribes
and poorly supervising the bankrupt banks. This must include the relevant governors
and deputy governors and board members.
● The partners, relevant managers, audit supervisors and seniors of accounting firms in
charge of the audit of all bankrupt banks.
● All owners, shareholders, board members, executives and senior management of all
bankrupt banks.
To realize this, the Chief Justice should set up a special fast-track court to try these criminal
practices in the financial services industry and help regulate the banks to ensure that these
criminal acts do not occur again. We are reliably informed that there are about 14 banks which
are facing severe financial strain because of criminal acts by the ownership, bank executives
and bank boards. We are also reliably informed that the mess in the banking industry is no
different from the mess in the insurance industry. It is therefore necessary for the Chief Justice
to act with great alacrity and clean out the mess before it turns into a big political mess. It is
instructive to note, that Ghana has sold 80% of its Bauxite reserves in order to obtain a $2
billion financial grant. It is also instructive to note that the criminal acts of a few at only one bank
is costing Ghana $1.5 billion. And it appears that it has taken years for the government to make
the criminals accountable. It is further instructive to note that the Bank of Ghana cannot publish
the names of bank robbers in their midst who took a bribe of 27.5 million cedis and helped
Capital bank criminals, including some Board members and shareholders, to steal over 620
million cedis. And all this is a tip of the iceberg of the rot to be disclosed when all the 14 banks
are properly regulated. And all of this is happening because the political leadership does not
understand our outrage since they want us to go to a high octane level which we will soon get
to.
This article is written to encourage the Government of Ghana to excise the cancerous, elite,
white-collar crime in the financial services industry. The government should not mistake the
seemingly easy-going nature of the public and must act swiftly to prevent an insurrection arising
from the people's umbrage, anger and despair in the face of the ongoing economic, social and
political injustice being perpetrated by the bureaucratic elite criminal mafia in the current
Mafiocracy.
By Charles K Amoo-Asante FCA CPA CMA CIA
Connecticut, USA