Djokoto's Diary - A Man About Town.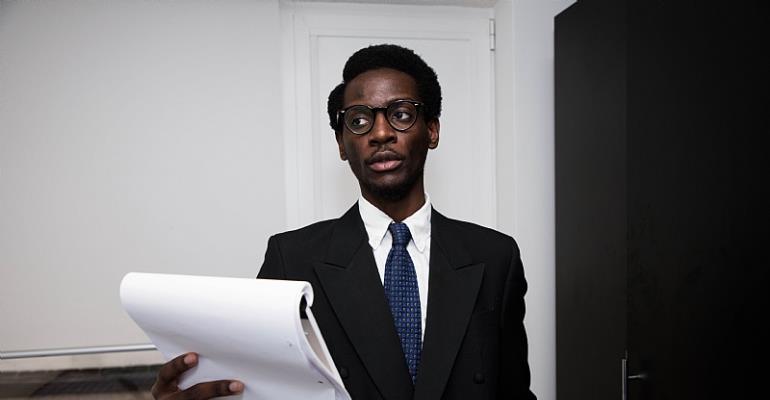 The Nkrumah Mystique
As an undergraduate student mesmerised with the Nkrumah mystique, I often thrived on quiet late nights, imbibing port and flicking through a collection of vintage books and dusty memoirs I had borrowed from my grandpapa's library, tilted back on a rocking chair listening to Sade Adu. These moments filled a void of knowledge about our ancient traditions and political systems - a cumulative depository of deities and ritual techniques, acquired as a result of trade, conquest and welfare - and provided stimulation for further intellectual enquiry and appreciation for the sophisticated art of divination in our culture. I was keen on identifying a common ideal which bound a kaleidoscope of virile citizens to the task of nation building - as a focus of unity for the Republic - and determined to foreshadow this intention through action.
Service Above All
Preoccupied with this ideal, I enlisted as a paralegal, Directorate of Legal Services, Ghana Armed Forces in June 2016. The Ghana Armed Forces offered a unique perspective on public life and organisational discipline — etiquette and code of conduct emphasised reverence for its hierarchical structure, interdependence and mutual respect for one another. The pomp and pageantry which characterised esoteric rites to commemorate milestones at Burma Camp particularly evoked consciousness of nationalism as a citizen and a renewed sense of allegiance to the Republic. Confined to the library, conducting research on international dispute resolution, I engaged several civil servants in discourse about our political history, some who witnessed and provided personal accounts of the various palace coups which occurredduring the 2nd and 3rd Republics of Ghana (1966 — 1981). At the time, I had also undertaken the strenuous task of negotiating for the representation of the Ghana Armed Forces as a delegation to honour the Ghana Youth Conference 2016, attending meetings with the various Commanding Officers, preceded by detailed letters espousing the philosophy of the Sankofa Society of Ghana, before tabling the objectives of the Convention to its logical conclusion.
The New Frontier of Leadership
The previous Ghana Youth Conference 1948 had assembled and merged the Wassa Youth Association of Tarkwa, the Asante Youth Association of Kumasi, and the Ghana Youth Association of Sekondi under the banner of the Committee on Youth Organisation. The CYO, chaired by K. A. Gbedemah with Kojo Botsio as secretary, released a manifesto demanding "self-government now" in a response to a proposed constitution by the Coussey Committee which consolidated the colonial franchise — retaining a foreign Governor and limiting voting rights toaristocrats. Rebels with a cause, the CYO successfully influenced the Coussey Committee's resolve to hold elections by universal suffrage. This provided an impetus to closer social solidarity and armed citizens with the fundamental right to directly elect representatives to the Legislative Assembly.
High Street Clerk
In search of broader exposure to public institutions and their inner-workings, I enrolled at the Judicial Service of Ghana as a clerk in August 2016. The Judiciary acts as the moral compass of the Republic and the conscience of the people, it is a pillar that sustains our nation as the 4th Republic most recently experienced during an eight-month long Election petition in 2013. As a clerk, I administered oaths and prepared reports on cases before the court daily, intimate with the diverse social complexities underlining our Republic, especially factors affecting the youth such as unemployment. After work, I'd roll my sleeves up and stroll into the heart of Jamestown, accompanied by a colleague who often helped with translation, to interact with townspeople and smallscale business owners, while recording observations for further examination. I believe to devise any meaningful strategy for district development, utmost reliance should be placed on accurate inventories/statistics.
Rebel With A Cause
Recently, after a spiffing banquet and an aesthetic exhibition of artwork such as Kirsty Bekoe-Tabiri's 'Honeyed Rays' and Soala Ajienka's 'Facets of Attire' exuding indigenous African excellence, I took my gigs off. Blotto from the fountain of youth as my flute runneth over, with a flaming Montecristo between my lips, I strolled from the rendezvous, still struck by thoughts of a Republic in pursuit of nirvana, and the promise land that continues to elude us, while the beaming full moon observed the conscience of a wandering reveller. A rebel with a cause.