Which private business at all is thriving under Akufo-Addo?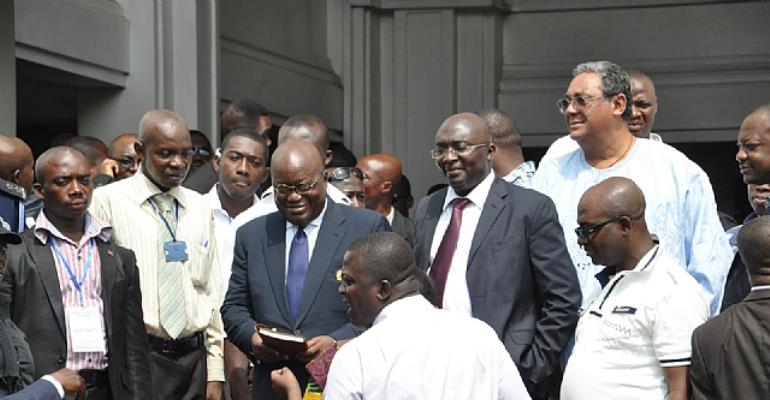 Folks, some of us become really disturbed when we read daily news reports of private businesses being clipped and closed down under Akufo-Addo. No day passes by without such reports. It has been so in Ghana over the years; but it appears to be unbecoming this time around. Disturbing.
So, what exactly is happening to confirm that this NPP cabal is making good its promise to work with private business people to grow the economy? And to move Ghana beyond the trial-and-error or hit-and-run approach to governance.
Let's remember that governance must improve living standards for it to be relevant to the electoral decisions made by the voters. otherwise, it is a liability to be damned.
Whether it is the banking sector or any other private initiative, nothing is working well. All that is happening is alarming. It seems that the government is eagerly killing private initiative instead of promoting it.
Here is the latest in the series:
"Six hotels have been closed down in the Eastern Region for operating without the requisite licences from the Ghana Tourism Authority (GTA). Officials of the GTA and the Regional Police Command closed down the hotels last Monday, as part of a one-week clampdown on illegal tourism facilities in the region.
Two out of the six that were closed down were located at Akwamufie, two at Somanya and one each at Odumase-Krobo and Asesewa. Facilities affected during Monday's exercise included the Rehoboth Guest House, Ofie ni fie Guest House, both at Akwamufie, the Exclusive Edition Guest House at Odumase-Krobo, the Nene Epeku and Shai Royal hotels at Somanya and the Canasco Guest House at Asesewa.
Two drinking bars and a chop bar were also closed down at Atimpoku and Kpong. More than 50 illegal facilities have been identified to be closed down by the end of the exercise on Monday, August 30, 2018." (See https://www.ghanaweb.com/GhanaHomePage/NewsArchive/Six-hotels-closed-down-for-operating-without-licences-678573).
Why so? Does Ghana have institutions to monitor happenings at their formative stages not to know that such "illegal structures" were being put up for the businesses that are being clamped down upon?
I get really angry when such reactive and negative steps are taken only after the fact.
Where was the Ghana Tourism Authority at the time that the structures were being erected and designated to do what is being frowned upon now?
Folks, for as long as our governments don't take the first step to be ahead of the pack, happenings of this sort will expose their incompetence.
Couldn't it be possible for laws to be enacted to ensure that anybody with such business interests would go through the process to officially register the business and be vetted before tasking practical action to establish the base? Why look on for people to spend so much money to establish the enterprise only to rush in the Rambo way to close it down or to demolish it?
Business is business and must be done in accordance with the law so it doesn't endanger human life or harm the economy. That is why licensure (or licensing) is a prerogative.
There is too much laxity and wickedness in the way business is done in Ghana; and the government (including all at the various levels) is the prime culprit. Nothing is seen to be done to promote business.
Too many fangs bared and pointed at those without political connections seeking to start something from the scratch. Not good for us, especially under an Akufo-Addo whose NPP boasts of being in power to promote government-private sector business but is doing its utmost best to curtail it all. Saddening!!
This Ghana Tourism Authority itself is damn useless as far as performance is concerned. If the hospitality industry is part of its purview, why couldn't it know what was to happen in such cases long in advance? What mechanisms are in place to designate such enterprises as fit to operate and licensed as such, even at the initial or formative stager?
Too much laxity or inefficiency in our institutions of state cost the enterprising business-oriented people. In this case, what will be done to make these "hotels", etc. eligible to function hereafter? Closing the doors after the horses have run out of the stable won't move Ghana forward.
People need jobs. Those with innovative ideas need spaces and the push to function and must be supported right from scratch, not frustrated midstream.
Is this government really worth being in place? We acknowledge the fact that its predecessors failed as well in this regard. But should this one under Akufo-Addo not make the difference? What, then, is the import of the CHANGE that it energized the voters to go for? The negatives of the status quo ante shouldn't be upheld in this case. Anybody thinking right in this government to make the difference?
I shall return…
By Dr. Michael J.K. Bokor
(E-mail: [email protected] )
Wednesday, August 22, 2018