A Blissful Eid Ul-Adha To All NPP Muslims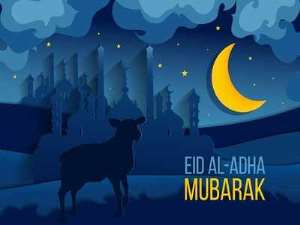 As muslims celebrate the Eid ul-Adha, I wish all New Patriotic Party (NPP) members of the Islamic faith across the world a joyful festival.
Eid ul-Adha is the festival of sacrifice which marks the end of the Hajj pilgrimage. The festival is used as a commemoration of Ibrahim's (Abraham) willingness to sacrifice his son in obedience of a command from Allah, but before Ibrahim could sacrifice his son, Allah provided a ram to sacrifice instead. Eid ul-Adha is the latter of the two Eid holidays, with the former being Eid ul-Fitr.
In commemoration of this, an animal is sacrificed and divided into three parts: one third of the share is given to the poor and needy; another third is given to relatives, friends and neighbors, and the remaining third is retained by the family.
On the Islamic lunar calendar, Eid ul-Adha is on the 10th day of its first month, Dhu al-Hijjah, and on the international calendar, it occurs two month, 6 or 7 days after the Eid ul-Fitr. In addition, the dates of the Eid ul-Fitr vary from year to year drifting approximately 10 or 11 days earlier each year on the international calendar. For example: this year, Eid ul-Fitr was celebrated on 15th June, but inshaa Allah next year, it will happen on either the 4th or 5th June, and that is 10 or 11 days earlier.
The Eid ul-Adha celebration which is began with attending the mosque or gathering at an open space for prayer to thank Allah for all His mercies, is also mostly occasioned with Eid prayers, animal sacrifice, charity, social gatherings, and festive meals and gifts sharing.
On this day of Eid ul-Adha, I pray for Allah's love and blessings for all Muslims of the NPP, also strength for them to be as obedient to Him (Allah) and His commandments as Ibrahim exhibited.
Further more, as they celebrate, may they avoid anything that has the tendency of erupting into bad news for their respective families, neighbourhoods, and the entire country, may Allah guide and protect everyone of them through out this festive season.
Eid ul-Adha!!! Eid Mubarak!!
Thank you
Hhhmm, may God be praised always
Nana Kwadwo Akwaa
Member, Critical Thinkers International (CTI)