MoFA Proposes New Payment Plan For Defaulting Farmers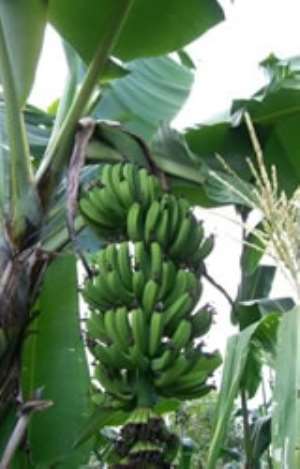 The Deputy Minister at the Ministry of Food and Agriculture Hon George Oduro has hinted that efforts are being made to enable loan defaulting peasant farmers in seven districts in the country to pay back loans in a flexible arrangement.
This he said will enable them to benefit farming inputs under the government's Planting for Food and Jobs programme,
Taking his turn at the Parliament Public Account Committee, (PAC) Mr Oduro disclosed that government reportedly lost an amount of
l GH₵414,141 out of GH₵1,106,865 invested in the Planting for Food programme.
He said the seven defaulting districts include Gomoa West, Gomoa East, Sisala West, Tamale Central who are yet to pay for farming inputs and other services supplied to them in the course of the programme
"We have the data for all the farmers and now we are finding it difficult to collect the money, so what we have decided to do is to engage them in groups and give them a payment plan and find out how much each farmer is owing.
"When that is sorted out, they will pay through the payment plan by installment.
I think that will bring flexibility for them to pay the outstanding amount" he told the PAC
There are about seven districts where these issues of non-payment happened and Mr. Oduro maintains that government will engage them.
These farmers were given farming inputs such as seeds, fertilisers to help them increase their yield.
He noted that they intend to advise ,and sensitise farmers that the input support will help them increase their yield, so the more they pay, the more they get an increase their yield, that as well as enhance the increment of their incomes.
Mr Oduro appealed to the PAC Chairman to consider reverting the District Agriculture Directorate back to MOFA
He also disclosed that the Ministry will be deliberating on moving the regional and district directors of agriculture from the local government Ministry back to the Ministry of Food and Agriculture.
"It was a government policy by the previous administration,when they changed the regional and district directors but clearly when we came and went around, we realized they now use composite budget [so if the agric directors make their budget and give it to the local government, what they told us was that the attention given to them was not satisfactory, so they could not perform very well, that is why the Ministry is still assisting them.
...So now we will try out best and haul them back to the Ministry of Food and Agriculture that will make things easier and simple," he added.