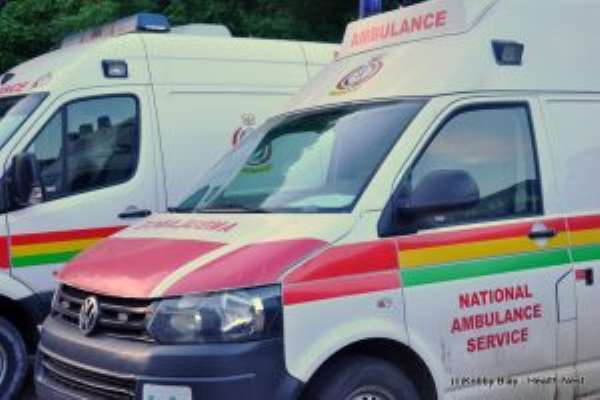 Government says it is considering a number of measures to solve imminent health crisis confronting the nation due to inadequate health facilities and a deficient emergency response system.
Among some options available to it, government is considering slicing funds from the National Insurance Commission, National Health Insurance Scheme and the Road fund, and allocate it with the aim of reviving the National Ambulance Service which is struggling to stand on its feet despite the herculean task on its shoulders.

Foster Ansong-Dridjan, head of operations at the Ambulance Service
"With the National Insurance Commission, a percentage of funds is supposed to be used for accident victims. We believe there is a possibility of seeding some of these funds to the National Ambulance Service," government stated in a response to a joint petition by Citi FM and Occupy Ghana on the need to revamp country's health sector especially emergency response.
Citi FM and Occupy Ghana in July 2018 petitioned President Nana Akufo-Addo to demand the operationalization of all newly built but abandoned healthcare facilities.
The petitioners also pushed for a comprehensive Emergency Response System (ERS) in Ghana.
The two petitioners contend that the matters at hand have "reached a crisis point" and require immediate attention.
"The matters now require drastic measures, one of which is our request herein that the President takes urgent steps to operationalize the facilities and institute the ERS throughout Ghana."
They urged the president to "put in place and publish a clear roadmap with timelines for addressing the matters."
In its response, government agreed that drastic efforts have to be taken to immediately strengthen the health system to "ensure that we achieve our social contract of right to good health care."
It said measures have been put in place to immediately complete some 21 abandoned projects nationwide.
With regards to emergency response, government acknowledged that "the National Ambulance Service currently has unpredictable funding flows from central government and there might be the need to explore other sustainable sources of funding for the Ambulance Service."
"…With the Road fund, since accident victims are conveyed by the National Ambulance Service, we are proposing a percentage should be seeded to the National Ambulance Service. Currently, the National Health Insurance Scheme does not pay for pre-hospital care. We think this should be considered in the current reforms."
Ministerial committee
Government also promised to set up a ministerial committee to find innovative ways of incorporating all sector agencies into the emergency response system, same way it is done in developed countries.
"We plan to set up a ministerial committee that will comprise all stakeholders that provide emergency services. The possible representation will be the National Ambulance Service, representative from the Teaching hospital, Police Hospital, MTTU, Police Service, Military, Ghana Health Service, NADMO. This will ensure we are able to review in real time any gaps in our emergency service delivery," government added in its response to the joint petition.
Emergency code
On the issue of a dedicated emergency toll-free short code, government acknowledged that the 193 shortcode usually gets jammed due to technical constraints.
It thus said there is a "need to improve upon the IT infrastructure to make it more fit for purpose."