Cameroun soldiers murder unarmed nurses in Mbengwi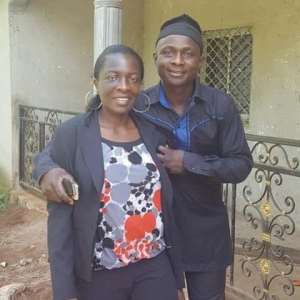 Church bells stopped ringing in the META valley, Mbengwi Subdivision this Sunday, as villagers woke to the heartrending news of the murder of unarmed nurses in charge of the Kob Health centre on SARTUDAY 11 August 2018.
The victims, husband and wife were blindfolded, hands banded in the back before being shot in the head.
Frightened denizens ventured out of their homes to tiptoe and see what had happened, still scared the soldiers would reappear.
An eyewitness, Solomon Nji, operating a beer bar in TAD, Nyen said he told the soldiers "The man and woman were nurses." The soldiers insisted to know whether Nji knew them, and he answered in the affirmative. He was surprised that they still shot them.
The hypocratic oath expects medical personnel to be protected and allowed to attend to the wounded and war victims. Now that nurses are being targeted, the death toll from The Anglophone crisis would rise.
Many homes were vandalized with property carted away. Houses were razed to the ground.
In the yearlong fighting pitting Ambazonia restorationists in Anglophone regions, government troops have killed thousands, creating a huge refugee problem and hundreds of thousands of internally displaced.
Cameroon has disputed images on social media exposing military brutality on civilian populations. These umpteenth images would be disputed by Issa Tshiroma Bakary, government spokesperson and apologist.
BIYA is running in yet another election in October 2018, to be president of Cameroon, in spite the killings and unrest in the Anglophone Northwest and Southwest regions. He has been in power for 37 years and overseen the worst corruption and human rights abuses in Africa.
Property has been destroyed and some looted and carted away by soldiers. Cameroun government is inviting displaced people to return to their homes and benefit from government humanitarian assistance. It is becoming evident that the humanitarian assistance is just to lure people to their death.
Apart from nurses, students and religious clerics have been murdered, instead of being arrested. The Ghanaian government is still protesting the murder of their evangelist in Batibo, and only yesterday, Buea diocese buried its priest, Alexander Sob murdered by Cameroun troops.
Cameroon is sliding fast into civil war and genocide of civilian populations in the Northwest and Southwest regions. What started as protest for improvement of the state of Anglophones has been poorly managed and allowed to degenerate into full war.
Reports from Amnesty International and Human Rights Watch have been disputed by Cameroun government.