Gov't To Embark On Rehabilitation Exercise To Cut Down Infected Cocoa Trees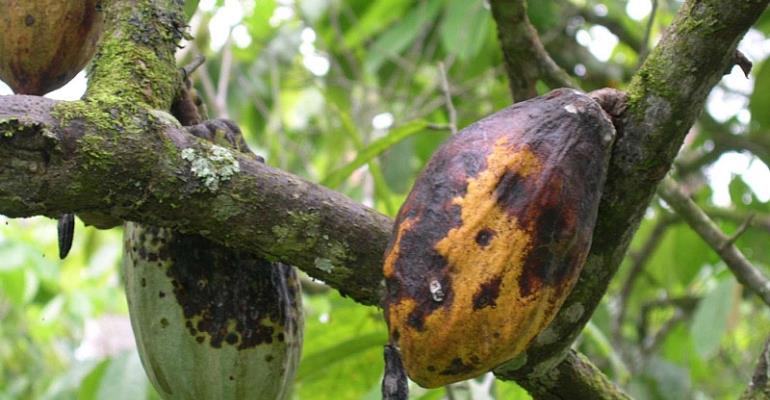 Government in conjunction with the Ghana Cocoa Board (COCOBOD) is set to embark on a rehabilitation exercise to cut down Cocoa trees affected by the swollen shoot virus. The exercise is a joint venture with Cote D'Ivoire and it is expected to commence by the end of this month.
Senior Public Affairs Manager at COCOBOD, Noah Amanya in an interview on Class FM explained that the rehabilitation exercises in the two countries is part of efforts to boost cocoa farming productivity. He believes the move with the Ivory Coast will get Ghana closer to its target of producing a minimum of 1 Million Metric tons of Cocoa each year.
The coordinated campaign between the world's leading cocoa producers is expected to cover 700,000 hectors of farms this year in Ghana in two Regions – Eastern and Western Region.
"We are going to do a massive rehabilitation to cut of the disease but we are actually starting that program in the Western Region and Eastern Region concurrently because that is where the swollen shoot virus disease is very endemic and a lot of the farms if you see it you will be worries because it is dying", Noah Amanya disclosed.
Currently about 17% of cocoa trees in Ghana have been affected by the swollen shoot disease dwindling crop yields of cocoa farmers. A figure that COCOBOD is poised to deal with and get rid of all affected trees.
"We are set and we will launch the program with Cote D'Ivoire and then that will start the rehabilitation program", he said.
He also confirmed that the rehabilitation program is expected to continue until we are able to clean our cocoa plantations off the swollen shoot disease.