Ibrahim Mahama Overtakes Alfred Agbesi Woyome in Swindling Ghana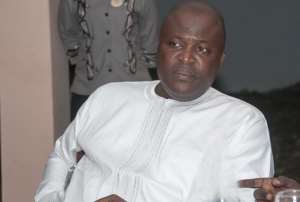 This publication is not about ethnocentrism. It is about telling the absolute truth in an attempt to finding solutions to blocking the leakage of State funds and assets into the pockets and ambits of some so-called rich and powerful individuals in Ghana. Most of these so-called rich and powerful individuals are worse than human parasites living in affluence off the ignorance and sorry to say, the stupidity of most Ghanaians who by their timidity and absurd support for them, have turned them into human monsters to terrorise us.
I could not believe my eyes and ears when I read and heard about how Mr Ibrahim Mahama, the younger sibling of former President John Dramani Mahama, has persistently been abusing his position as the brother of former President Mahama to dupe Ghana out of millions of Ghana Cedis. Here is a man who goes about claiming he is the most richest man in Ghana; having several companies and freighting his cars by air abroad for repairs when they breakdown. Here is a man who purchased two expensive cars and number-plated their registration as PEPENI No. 1 and PEPENI No. 2. Here is a man who owns a private jet.
Upon all his outward show of riches, least did we know that he was swindling Ghana big time or else, he would be as poor as the church mouse like you and me. I am highly infuriated how some well-placed persons in Ghana have made it their habit to dupe Ghana without any law or person or government able to punish them.
Ibrahim Mahama has been taking huge sums of loans from Ghana banks without paying the loans back. His habit of taking such loans with intention not to pay them back but use his brother and others to let him off the hook has led to the collapse of Merchant Bank, and currently, the UT Bank.
If my memory will serve me right, he took about GHC58 million or US$58 million from Merchant Bank, supposedly facilitated by then President John Agyekum Kufuor. He never paid back the loan contrary as agreed. This financial shortfall in the bank's operational capability led to the bank going into administration, thus, bankrupt. When the bank was being sold, a group that bought it was said to be part-owned by this same corrupt Ibrahim Mahama.
This same man is established to have borrowed hundreds of millions of Ghana Cedis from UT Bank. Again, he has failed to honour his part of the contractual terms of the loan agreement. He borrowed over GHC302 million. Subsequently, the bank went into distress hence being bailed out and taken over by the government. Taxpayers money has been used to help consolidate this bank (UT Bank) along with others to save depositors from losing their money.
Ibrahim Mahama is the same person who was not paying duties on his machineries and goods imported into the country during the reign of his brother, former President John Dramani Mahama. He was using dud cheques to clear his goods from the ports for a period of two years. When NPP took over power and Hon Kennedy Agyapong exposed him, he ran like a dog with its tail tucked in-between its legs to pay the GHC12 million he was owing. He paid it without any interest for all the two years that he was not paying any tax on the goods.
What is a dud cheque? A dud cheque by dictionary definition is, "A cheque that cannot be paid because the person who wrote it has no money or not enough money in their bank account". Knowing very well that he had no money in his bank accounts to pay, he continued to issue about twelve or more of such cheques which could not be cashed. Nevertheless, he continued to clear his goods from the Tema Harbour for two solid years. He would never have paid a pesewa were his brother re-elected in the 2016 general election. This attitude by the President compromising for his brother to dupe Ghana makes him equally a corrupt person if not a complete thief himself.
From the way Ibrahim has conducted himself, he is the number one and number 2 thief in Ghana but not pepeni. He has to be arrested and prosecuted.
Following the contents of the web links below as read on Ghana web under their General News of Friday, 10 August 2018 and Business News of Saturday, 11 August 2018 respectively, I call on the relevant bodies to investigate Ibrahim Mahama and prosecute him accordingly. His assets must be frozen with immediate effect.
I hope my schoolmate and friend who is now a Member of Parliament and a Financial wizard will phone to talk me through on this Ibrahim Mahama issue in relation to banking policies so as to know who to petition to get Ibrahim Mahama investigated. He should not be allowed to enjoy his craftily stolen money at the expense of the Ghanaian taxpayers. He is a "big, big, thief", as my Indian work colleague would say.
Shame on Ibrahim Mahama the thief! This has nothing to do with tribe. It is about Ghana and how to stop crooks in all forms and shapes from duping the country. Therefore, I will not expect anyone to come out to support him because he belongs to their tribe or he has employed them in his company.
I am dealing with him as an individual who has surpassed Alfred Agbesi Woyome to duping Ghana banks and the people of Ghana out of millions of Cedis that could have been used to establish industries to employ people.
Kwame, get back to me with advice as to who to petition to have Ibrahim Mahama the thief investigated. Is it the President of the Republic, the Chief Justice or the Special Prosecutor that I have to petition, please advise? My evidence is my knowledge of how he has swindled the two banks as read from the news.
Let us all join hands to fight corruption by rallying behind the President and the Special Prosecutor to flush out the corrupt persons from the system.
When is the Woyome's stolen money going to be collected; or, it's just a political gimmick when NPP promised to retrieve the money from him within months of assuming the mantle of governance of Ghana?
One day; one day, the youth of Ghana will emerge from their cowardice cocoon to take on the corrupt leaders of Ghana and on that day, they will run and leave their sandals behind similarly as the late Dr Kwame Nkrumah promised to take Ghanaian chiefs on!
Alfred Agbesi Woyome and Ibrahim Mahama, the value is the same! They are both swindlers of the 21st Century Ghana.
Rockson Adofo