Educating the Malicious NDC on the Qualification for Ghana NationalIdentity Card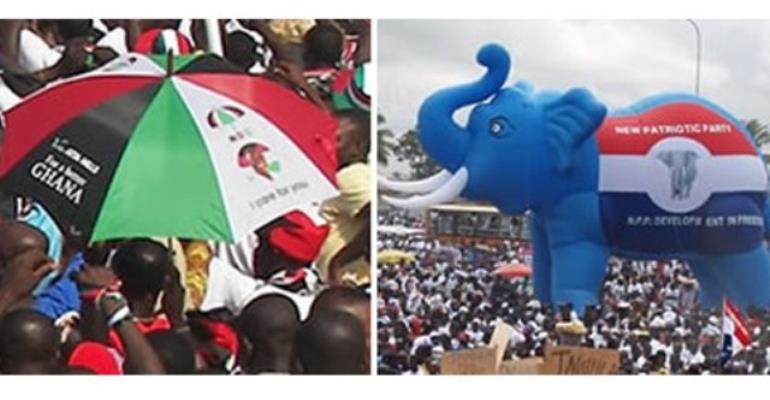 The NDC as a government, a political party and a group of persons sharing some political ideologies can be said without mincing words to dangerous for the development of Ghana. They lack foresight but are overflowing with evilness inundated with stinking corruption.
They lie same as they breathe. They feed on lies and corruption. To throw dust into people's eyes is their perfect trademark. All they dream of is how to win election and to embezzle public funds and State assets.
This publication is directed at exposing the NDC fraternity as the biggest liars who do not mean good for Ghana. They are devoid of common sense but overflowing with mischief.
The National Identification Authority (NIA) have been tasked by the NPP Government to issue any Ghanaian with a Ghana National Identity Card. NIA have specified three requirements each of which qualifies one to be a genuine Ghana that can be issued a national identity card. The requirements are;
a) possession of Ghana passport
b) possession of Ghana birth certificate
c) getting one family member who is a qualified Ghana or two friends or townsmen who are Ghanaians to vouch for you that you are a Ghanaian in case you do not have a Ghana passport or Ghana birth certificate to show for whatever reason.
NIA have excluded voter card from the requirements since most people obtained the voter card using a National Health Insurance Scheme (NHIS) card. However, the NHIS card was issued to anyone residing in Ghana, regardless of the person being a genuine Ghanaian, legal immigrant, illegal immigrant or a foreigner. Subsequently, the voter card cannot, and should not, be used as a credible document justifying one's Ghanaian nationality.
However, the NDC for all their dubious and thoughtless quests to recapture power by any means possible, have been insisting that the voter card be accepted as a genuine document attesting to one's Ghanaian nationality. They claim some people have no birth certificate or passport so without the acceptance of the voter card, many a Ghanaian will be excluded from getting a National identity card. Honestly speaking, I find their argument very silly. Why can't all those not possessing birth certificate or passport avail themselves of the third option which is getting a genuine Ghanaian to vouch for them? Are they scared because the person vouching for the other will do so under oath and when it turns out to be false he or she will be arraigned for perverting the course of justice or be charged with assisting someone to criminally obtain Ghanaian nationality?
I am not going into the details of this but will simply request public readers to familiarise themselves with the contents of the underlying web links. The NDC registered their members including foreigners using the biometric machine same as used by the Electoral Commission and allegedly passed their details on to the Electoral Commission to be transmitted to the EC's database. This is why the vehemence with which the NDC are insisting that the voter card be accepted as proof of one's Ghanaian nationality to qualify for them to be issued with Ghana national identity card.
Read More: Why Are The NDC Vehemently Against The Requirements Set For Registering For Ghanaian National Identity Card?
No Ghana Card, no job – Kusi Boafo to Public Servants
Koku Anyidohu claims that the voter card that NIA are not accepting as genuine for qualifying its possessor to obtain Ghana national identity card was the same card used to vote Nana Akufo-Addo into power. Therefore, if it is not good as an identity card to qualify one for Ghana national identity card, then Nana Addo's election as the president must also be nullified since he was elected by people using their voter card. Should I say Koku Anyidohu is a big fool by making such an argument? No, I should not treat him as an imbecile but a novice who needs tutoring from experienced people and those of us who are grey-haired, the repository of wisdom.
Let me use my travel experience to pump sense into the bulky cranium of toady Koku Anyidohu. In Ghana and most other countries, it is now illegal to use tramadol, a painkiller drug once easily purchased at the counter in pharmacies without doctor's prescription. It is now noted to be dangerous for the health of people and can only be purchased on prescription but with limitation. Why should Koku Anyidohu not tell me that once it could be purchased in bulk without prescription, it should continue that way. Some people used it to treat their bodily pains so it should continue to be used regardless of its detected or recently established defects?
Again, in the United Kingdom, some parents could give birth to many children with some having up to twenty-five to thirty. Each child was given Child Benefit and Chid Tax Credit. These are allowances paid to the parents towards the children's upkeep. However, during the Tory/Conservative government of former Prime Minister David Cameron, he made changes and decided to pay only the first two children Child Benefit and Child Tax Credit. Any extra child would get nothing. He set a date when that law would come into effect. This was to dissuade married couples from giving birth to too many children in the hope that the State will take the responsibility of caring for the children. He wanted parents to be responsible enough to cater for their own children without the taxpayers shouldering the responsibility of catering for someone else's children. Is Koku Anyidohu going to tell me that some people including David Cameron himself had enjoyed being cared for by the taxpayers some time past so the system should be accepted as the norm to continue to stay as it was? Time changes so if something is discovered to have outlived its importance or contains some anomalies, it must be changed without ifs or buts.
In the United Kingdom, many years ago, some low-income families or homeless persons were given three or four bedroom Council house or flat for rent for £70 per week. This was about twenty to thirty years ago. Now as we speak, the Council or the Housing Associations are renting similar accommodations for £300 to £380 per week. This is because David Cameron said he wanted the Council accommodations to be brought within 80% of the market prices instead of 30% or less as it used to be. However, those that had their accommodation at such lower prices are still paying the lower prices. No one is arguing that why are people paying lower rate of rent and others paying such higher rates. There was a cut-off period and tough for those affected by the higher rate.
Should we go and ask David Cameron or the government why are some tenants still paying lower rates and others higher rates for similar size council accommodations? No, once something is discovered not to be value for money or is too cheap or bad and changes are made, we have to go with the new changes without revisiting the old order to question why this why that.
The Voter card was issued to many people presenting their NHIS card which were dished out to anyone to help them access the free healthcare. Little did we know that it would become an albatross to cause us political insomnia in the future. Has Koku Anyidohu and his little-minded NDC people ever heard about drugs being withdrawn from sale or from the market because of detected dangers associated with the use of the drug even though same drugs had been used to cure or treat some diseases in the past?
If drugs can be withdrawn from circulation because of detected anomalies that make their further use dangerous to human health, so can the voter card not be accepted because of the remote illegality of its acquisition via the NHIS card.
Koku Anyidohu can demonstrate until thy Kingdom come, the voter card will not be accepted. If they cannot get someone to vouch for them as being Ghanaians, then tough with them! NIA should stick to their guns as far as their stipulated requirements go.
Funnily, whenever the NDC are mentioning the requirements demanded by NIA, they do not mention the one about someone vouching for you, the easiest one among the three.
What is to vouch for? It means to attest or certify that something is true. Whoever cannot get anyone to guarantee that they are Ghanaian from such and such town or family is therefore not a Ghanaian, I am afraid. Upon all my nearly forty years stay outside Ghana, I can still get hundreds of people to tell which town and home I come from if I went to Kumawu or Juaben in Ashanti region today.
Koku Anyidohu and his crafty bandwagon of NDC sympathisers who are only interested in winning elections to exploit the nation, please give us a clean break from your shenanigans. I am personally sick and tired of you, ye nation wreckers.
Rockson Adofo