The Influence Of Peter Tosh On Lucky Dube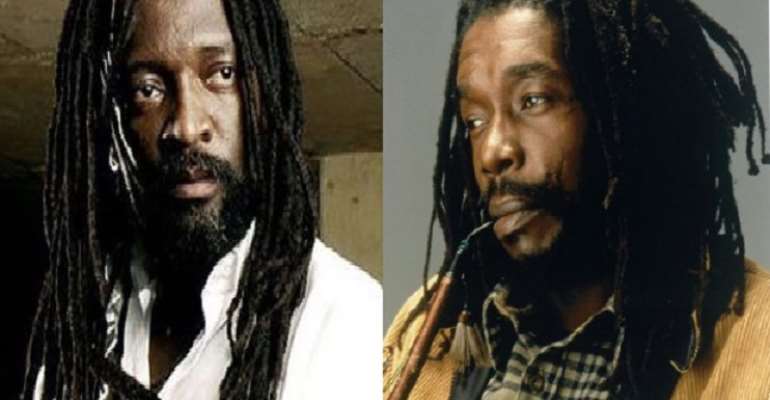 Like many writers, some of the great musicians all have stories to tell about what or who influenced them to reach the highest peak of their musical career. It will be recalled that one day, Burning Spear met Bob Marley on his way to the farm and he spoke to him about his music ambitions. Bob Marley then directed Burning Spear to go to 'Studio One.'
That was the beginning of Burning Spear's successful musical career. With a good heart, he gave credit to Bob Marley in his song "As it is" taken from his album " Calling Rastafari." He sings, "I start singing in the late sixties. Told about Studio One by Bob Marley."
Out of the three original trios of 'The Wailers' Lucky Dube likes Peter Tosh. There must be some reasons. Lucky was a victim of Apartheid. During the Apartheid era, two white men with bulldogs were bragging about how strong and wild the dogs are. Unfortunately, Lucky appeared there at a wrong time and the owners let go the dogs on him. Lucky Dube said this sad story in one of his interviews.
While world leaders, including Margaret Thatcher, were supporting Apartheid, concerned Peter Tosh, was probably the first musician to play the tune 'Apartheid,' expressing his anger against the injustice and sufferings of South Africans, before other musicians followed him. This is a significant example if Lucky Dube likes Peter Tosh. Reggae music is not only to be listened to but also to be studied.
Lucky Dube honoured Peter Tosh
Now let's find out the love Lucky Dube had for Peter Tosh. In one of the songs of Peter Tosh, 'Glass House,' Peter Tosh sang "Harm no man, Let no man harm you, Do unto others, As they would do to you, And to every baldhead, Respect the Rastaman Cause he's the only man left on creation." The latter, "Respect the Rastaman cause he's the only man left on creation," is what I want to lay my emphasis on.
In 1991, Lucky Dube released the remarkable album named 'PRISONER.' On the track called "Reggae Strong," Lucky Dube honoured and paid a tribute to Peter Tosh unnoticed by singing, " Killing the prophets of reggae, Destroying the prophets of reggae, But somebody said to all the bald heads Respect the rastaman 'Cause he's the only one
Only one left in Jah creation." (He referred to Peter Tosh here.)
During my interview with Lucky, he confirmed his likeness to Peter and said; "Peter Tosh was a great singer, so I feel honoured if people say that I sing like him." He similarly honoured Bob Marley too, while singing the song 'VICTIM,' saying "Bob Marley said:
"How long shall they kill our prophets, While we stand aside and look But little did he know that eventually the enemy will stand aside and look while we slash and kill."
"Reggae in the bathroom, Reggae in the bedroom, Reggae everywhere, Reggae in jail, reggae in church, Everybody likes it." Lucky Dube was a kind of musician no one can fill his shoes, after his tragic departure from this earth because he was the only Lucky Dube and his music was exceptional and a masterpiece.