Minister Urges Schools To Support Free SHS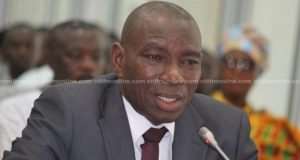 The Eastern Regional Minister, Eric Kwakye Darfour has asked heads of senior high schools in the country to help the government succeed in its implementation of the Free SHS policy by accommodating the huge number of students who are expected to enrol into the various schools in the next academic year.
According to the Minister, in excess of about 181,000 students who are expected to enter secondary school will bring massive pressure on the existing structures which government is working to improve.
The minister, who is optimistic about the success and reformation of the educational sector under the leadership of President Nana Akufo-Addo said the double-track system will provide an opportunity for less privileged Ghanaian students to be educated.
"I want to draw the attention of managers of senior high schools in the country to the fact that it is not for nothing that President Nana Addo introduce the free senior high school. And now because of the huge number coming this year we are anticipating that in excess of about 181,000 more students will be coming on board and to give the opportunity for these children to attend goods schools like St. Peter's, the double track system is being introduced"
"Please let us all help ourselves, help the nation by accommodating the large numbers that will be coming. It is not going to stay forever because we need to build more than 600 new schools or new six classroom blocks to be able to accommodate the numbers that will be coming for the semester but the country does not have finances, so managers more pressure will be on you but I know more teachers will be recruited to help too".
–
By: Neil Nii Amatey Kanarku/citinewsroom.com/Ghana