Council Off State Gives Relevance To Ghana's Democracy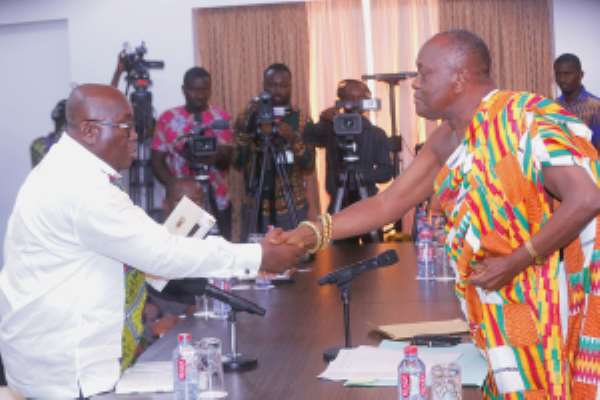 Chairman of the Council of State, Nana Otuo Siriboe II, has defended the relevance of the Council.
According to him, the importance of the 25-member constitutional body to the growth of democracy in the country cannot be underrated.
He made the comment when the Council presented its report of their first year in office to President Akufo-Addo.
Chapter 9, Article 89 of the 1992 constitution enjoins the Council of State to "counsel the President in the performance of his functions".
"Not only do we seek to report our activities to your Excellency, we also seek to let the Ghanaian public know that the Council of State is as relevant today to the democratic advancement of Ghana as it was conceived by the framers of the 1992 constitution", he said.
He further dismissed assertions by sections of the public that the council only exists to do the bidding of the President or the Executive.
"This Council of State, we say with humility, is neither a rubber stamp council nor an institution which has been irrelevant to the progress of our country".
Nana Otuo Siriboe II, said the Council found it gratifying that the president listened to its advice and reservations on all matters referred to it.
He said given the work they did in their first year in office, it will be erroneous to describe the Council as irrelevant.
I am grateful for your help
Meanwhile, President Akufo-Addo expressed satisfaction with the work of the Council.
He said, the Council has helped him govern the country with diligence saying "we have not found any difficulty on our part in adjusting to the reservations over some advice. I am extremely grateful to my members of the Council of state".
The Council of State
Aside counselling the President in the performance of his functions, the Council of State is required to "consider and advise the President or any other authority in respect of any appointment which is required by the constitution or any other law to be made in accordance with the advice of, or in consultation with the Council."
The council, upon request or on its own initiative is to "consider and make recommendations on any matter being considered or dealt with by the President, a Minister of State, or any other authority established by the Constitution.