Withdrawals From Defunct Beige Bank Accounts Blocked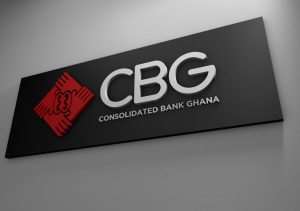 The newly-established Consolidated Bank Ghana (CGB) has blocked the fixed deposit accounts of customers of the defunct Beige Bank.
This means clients of the defunct bank can no longer make withdrawals from the fixed deposit accounts.
"Effective immediately there will be no redemptions or withdrawals on all fixed deposit accounts held by the erstwhile Beige Bank", Consolidated Bank indicated in a statement signed by its Chief Executive Officer, Daniel Addo.
The Consolidated Bank Ghana was established after the Bank of Ghana merged Beige Bank and other four struggling banks in August 2018.
According to the statement by the CBG, it took the decision to block the accounts because it has noticed some anomalies in the accounts between Beige Bank and its related company, Beige Capital Asset Management.
It, however, expects to complete the reconciliation of the accounts within 10 days saying "to resolve this we have initiated a reconciling assignment which is expected to be completed within the next ten (10) working days.
Find below the full statement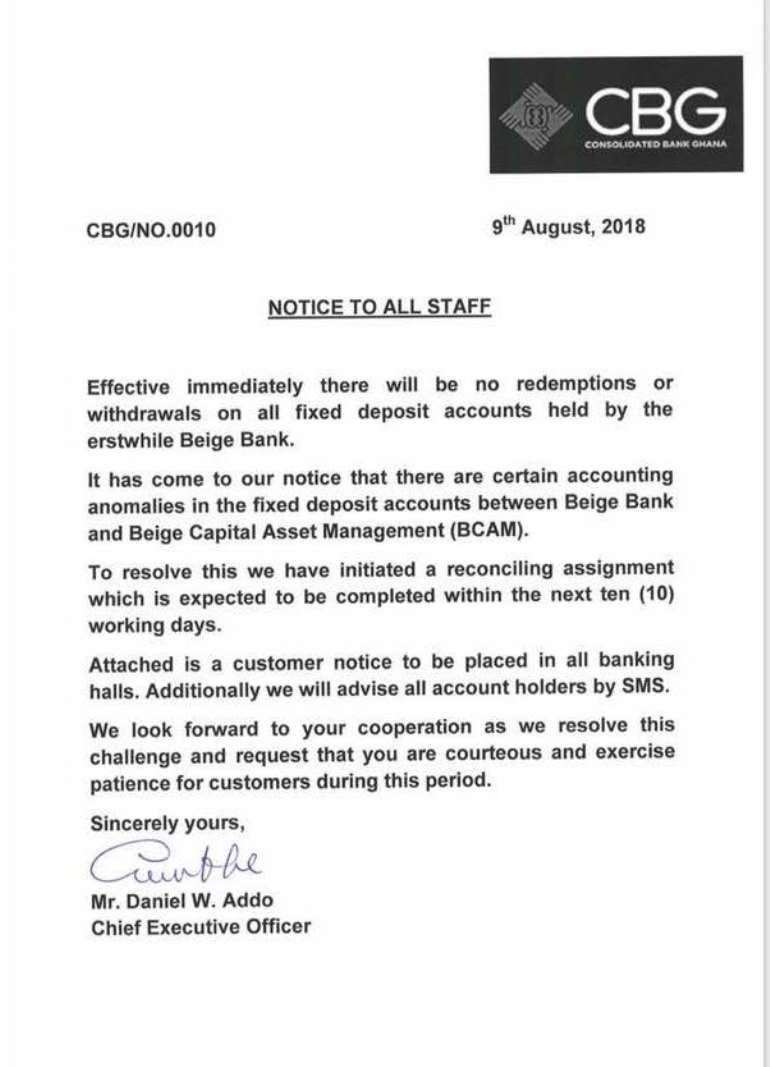 Collapsed banks' staff handed 60-day probation at Consolidated Bank
The newly-formed Consolidated Bank Ghana Limited offered former workers of the five collapsed banks a 60-day probation period to assess their employability.
This was contained in a letter handed to the employees of Unibank, Beige Bank, Sovereign Bank, Construction Bank and Royal Bank who were merged into the new entity.
"Dear employees we wish to welcome you to the Consolidated Bank Limited. As you aware, the Bank of Ghana has withdrawn the operating licenses of your bank and the Consolidated Bank Limited has assumed assets and liabilities of the bank.
"The purpose of this letter is to inform you that you will be working with the new bank for a period of 60 days during which time it will be possible for your employment status to be assessed. Based on this assessment, a determination will be made as to whether you will continue to be in employment with the Consolidated Bank limited. Kindly be reminded that you will still operate from your current workplace.
Beige Bank obtained licenses falsely – BoG
Beige was one of three banks consolidated under the banner of Consolidated Bank Ghana Limited by the Bank of Ghana, that obtained their banking licenses by false pretenses.
The other banks in question are Sovereign Bank, and Construction Bank.
"Beige Bank and Construction Bank were each granted provisional licenses in 2016 and launched in 2017. Subsequent investigations conducted by the Bank of Ghana, revealed that similar to the case of Sovereign Bank, both banks obtained their banking licences under false pretenses through the use of suspicious and non-existent capital, which has resulted in a situation where their reported capital is inaccessible to them for their operations."
"In the case of Sovereign Bank Limited, as part of Bank of Ghana's investigations into the failure of Capital Bank Limited (currently in receivership), it emerged that Sovereign Bank's licence was obtained by false pretenses through the use of suspicious and nonexistent capital," the Bank of Ghana boss, Dr. Ernest Addison stated at a press conference.