Tertiary Educational Institutions Network Of Tamale College Of Education On 11th August 2018 On The Rush And Hasty Nature Of Implementing The Teacher Trainee Licensing Examination At Tamale College Of Education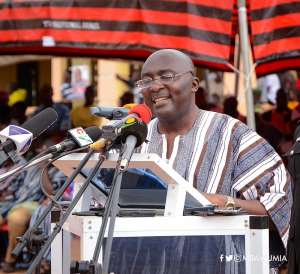 When the sleeping dog is triggered to a hot temper, bones on the road might not find it easy.
Good day Ladies and Gentlemen,
I welcome you to this brief but important Press Conference to drum home our plight as far as the rush and hasty implementation of the Teacher Trainee Licensing exams is concern.
Ladies and Gentlemen, according to the National Teaching Council of the Ministry of Education, all prospective Teacher Trainees are to write a professional exams to enforce discipline and eliminate poor teacher performance. In the wake of all these happenings, we wish to let Ghanaians know that the new Teachers Policy under the Education Act 778(2008) was not properly thought through and lack tenets of broader consultation.
Our reasons are premised on the following grounds.
1. We believe there are better internal assessment mechanisms that can be strengthened to ensure better standard of Education in the country.
2. Furthermore, we are dismayed on the rush attempt to implement such a policy whilst key stakeholders such as NAGRAT, GNAT, Think thanks and Educationists have all raised red flags to its implementation. We wish to state unequivocally that, a rushed programme as this will certainly be crushed just as the Free Senior High school policy which doesn't even have a document.
Friends of the Media, issuing license to the existing teachers who have not written the so called professional exams annul the very reason for the introduction of this policy since National Teaching Council believes and admits that, these teachers are qualified and professional enough without the licensure examination.
Ladies and Gentlemen, We also wish to state unequivocally that, government wants to use this policy as a weapon to intentionally fail and downsize the number of professional trainees due to unpreparedness of government to employ us.
Ladies and Gentlemen, How on earth can a newly posted teacher just administer a class test on his first day of attending to the class and use it to determine whether the students can pass BECE or WASSCE? That is certainly the case with this licensure examination.
As I speak, there is nothing like orientation nor course outline to help prepare us adequately for the supposed examination which is scheduled next month, September 2018.
Friends of the media, Ladies and Gentlemen, the exorbitant amount charged as fees for registration of the examination is another headache of we the trainees. The supposedly restored allowance which is now a curse than blessing is not forth coming so how do we get these huge sums as students to pay?
The NPP promised and assured us of a persist flow of our allowance which we could have saved to pay but they have proven to us that we have indeed sacrificed our lifetime salaries to an excruciating restored allowances. This particular initiative should be halted by the NTC as a matter of urgency. Trying to impose it on the newly trained teachers by hook or crook makes it lucid that, it wouldn't survive time. What the government should know is that, you can not make a forest the same year you planted trees. This batch of fresh teachers are with minimum professional values in the teaching field hence it is very obvious they might not perform as expected. Assessing the professional skills of a fresh teacher who has never singularly handled a class is certainly not the best way of obtaining a comprehensive information of him or her. The Ministry of Education should as a matter of fact come out to also place a voice on this clueless licensure initiative since the NTC is a ramification of it. Undoubtedly, we're more than angry and might advice ourselves should the government remain mute or go ahead to implement it.
In conclusion Ladies and Gentlemen, We wish to entreat the National Teaching Council to revisit this decision and as a matter of urgency halt this policy for a possible cancellation lest they incur our wrath.
Ladies and Gentlemen,if the going gets tough, the tough shall surely get going if government fails to cancel this initiative.
I thank you for your attention and may the good Lord bless us all. Long Live TEIN!
Long Live Teacher Trainees !!
Long Live Ghana Education !!!
Signed
Fuseini Inusah Akonsi
(TEIN President- Tamale College of Education)