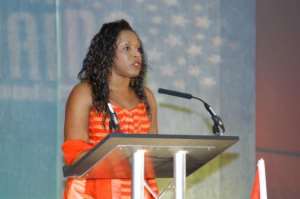 Executive Coach and Personal Brand Strategist, Em Bartels is set to embark on another round of oral communications training targeting professionals and business people in media.
The event is aimed at supporting Executives to exhibit world class oratory skills and communication skills in the current rapidly evolving global business environment.
The training, which will also target communicators in general, follows the success of the premier Elocution event in Ghana in November 2017. The 2018 event will come off at the British Council in Accra on August 25, 2018.
"Although public speaking is ranked ahead in most common fears, when done right, a speech or good oral diction increases your visibility with the people who count and its unparalleled in its ability to help you stand out from the pack," says Em Bartels.
In some cases, the requirement of public speaking stops great employees from ever advancing in their careers. Many potential leaders may also not pursue a senior role for which they are the perfect candidate because it requires delivering presentations occasionally and speaking to their teams.
She explains, Elocution 101 will support potential leaders to polish their oral delivery to enhance what they already have. The masterclass will take participants through the basics of phonetics, sounds, mispronounced words, silent letters as well as understand the proper use of homophones and prepositions which can be very tricky.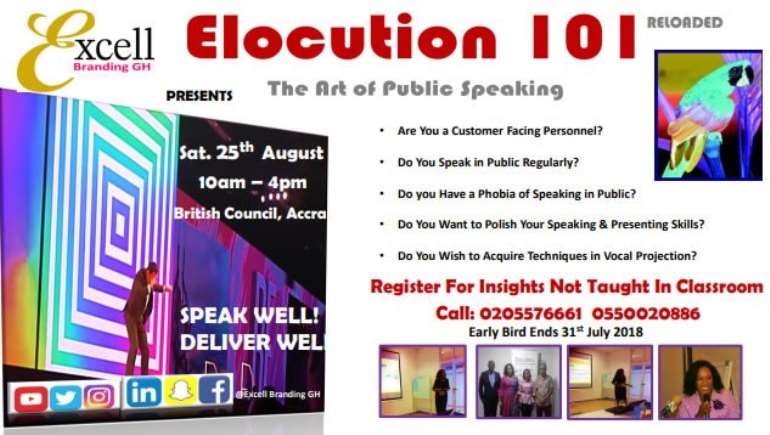 The event, Ms Bartels notes, is also to support participants avoid the common oral gaffes heard on the airwaves such as the proper pronunciation of words with "TH", "L" and "R" and the "Axe" versus "Ask" debate, while teaching the correct breathing, enunciation, voice projections, pitch, tone and timbre in Articulatory and Auditory phonetics. A more expansive teaching on non verbal communication and telephone communication with etiquette has been introduced in this years masterclass, the expert adds.
"Many people have the erroneous view that elocution training is to alter your accent to speak differently from your regular speaking accent. What we do in Elocution 101 is to help you polish your oratory skills and develop the use of standard enunciation without necessarily getting involved in accent alteration," Em Bartels reveals.
She enouraged media practitioners, journalists, professionals, politicians, lawyers, executives with client facing roles as well as teachers to participate. Special offers apply for group registrations and companies who want to raise the game of their communications and customer service teams.
To register or participate in the event, email [email protected], check the Excell Branding GH Facebook page call or WhatsApp +233 (0)20 527 6661 for more info.
About Excell Branding GH
Excell Branding GH is a professional development organisation targeting executives and entrepreneurs to develop, polish, grow and evolve their Personal Brand to be relevant and compelling in an ever evolving business environment.
Excell emphasises on communication training, Customer service, Personal Branding, Elocution and voice projection, Business and social etiquette as well as protocol training.
About Em Bartels
Em Bartels is the founder and Executive Director of Excell Consulting GH, Excell Branding GH, a Personal Branding Expert and Executive Coach with a track record of building incredible personal brands that help executives to stand out, become visible and attract a passionate tribe.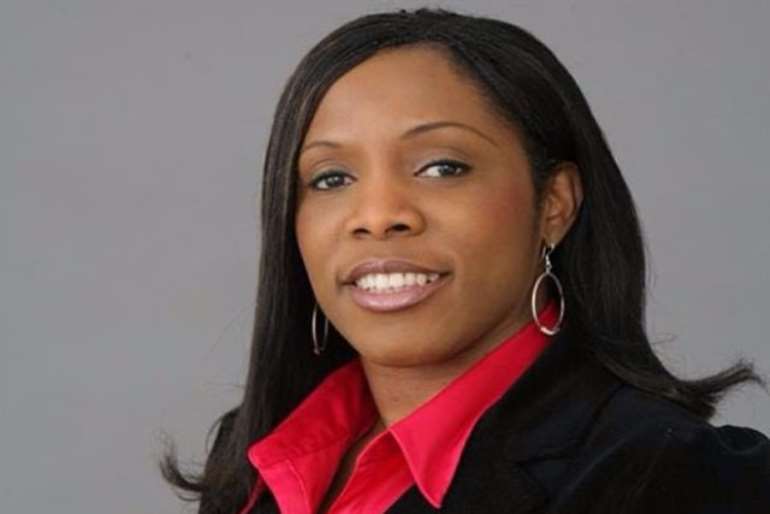 An ardent public speaker and elocution expert, Ms Bartels supports executives and professionals in the art of oral delivery and diction.
She is the founder of GPA Awards, a Professional Development Organisation that promotes Creativity, Innovation and Excellence
Story by Ghana | Myjoyonline.com | JTM