The Municipal Chief Executive of the Ga Central Municipality, Hon. Dr. Emmanuel Lamptey, has challenged parents to take keen interest in the education and development of their children as these establish their future.
He saysseeking academic excellence should be a shared responsibility of both teachers and parents.
According to him, "attaining academic excellence is now beyond just good grades but rather the maximum development of the student's intellectual capacities and skills in service to humanity. The combination of intellectual content and practical capabilities provides the ability not just to survive but thrive as one navigates the changing world of work".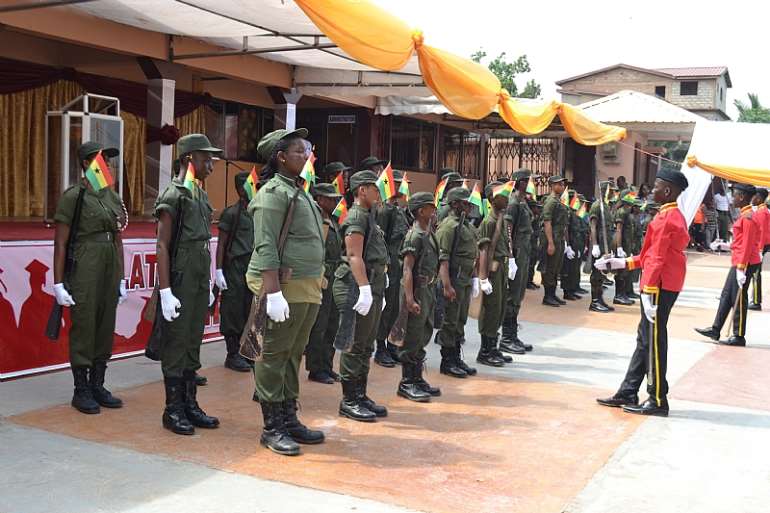 The MCE made these remarks as Guest Speaker at the 7th Graduation, Speechand Prize-giving Dayceremony of Platinum Montessori Schools located at Anyaa in the Ga Central Municipality.
Dr. Lamptey furtheradded that "modeling academic excellence can help create streams of well-rounded students or graduates for the development of life. The importance of the complex relationship of academic excellence as a development tool and economic success is demonstrably evident, andshould motivate us to invest in the future of our children".
He mentioned teacher and teaching methods,educational content, effective learning environment, school management, preconditions for pupils,funding and organization as the key elements that contribute to effective education.
He commended the management of Platinum Montessori's school for the constant efforts in ensuring quality education in the municipality.
The ceremony which was based on the theme "Seeking Excellence through Quality Education for Nation Building", saw students of the school perform to entertain their parents and guests. Activities that took place during the ceremony included poetry recitals, fashion shows, cultural display, choreography and a cadet parade.
The Headmaster Mr. Alfred AnsahKwakye in his welcome address revealed the school since its establishment in 2010 has trained over500 children who continued to excel in their activities where ever they found themselves.
"Currently, the school has a population of 606 students; made up of 306 boys and 300 girls, 40 teaching staff and 13 non-teaching staff" he said.
He added that Platinum Montessori Schools started with one dwarf structure with five classrooms accommodating only the pre-school department and few classes for primary can now boast of a three-storey building, structure with 52 well ventilated classrooms, a science lab yet to be furnished, a library and a computer room, 48 lavatory system, a well ventilated canteen, a well-furnished kitchen equipped with modern equipment and two dormitories all equipped with excellent features and fittings.
On the school's projectionwith regard to infrastructure for the next academic year, Mr. Kwakye reiterated that "a science laboratory has been completed and ready to be furnished with modern scientific equipment to make science lessons more practical for students, a library has also been completed and ready tobe stocked with educative books and a computer lab has been completed ready to be equipped with computers to make the children explore the world around".
With regards to academic achievements, the Proprietress, Mrs. Beatrice Adoh, declared that the schoolhas made remarkable success in the Basic Education Certificate Examination (BECE)."The school has so far presented three (3) consecutive batches. The first two batches had been released, and Platinum Montessori Schools performed very well with 100% distinction passed with coveted prizes. We do hope that the 3rd batch whose ceremony we are witnessing today will produce a wonderful performance", she said.
The Ga Central Municipal Director of Education of the Ghana Education Service (GES), Madam Diana Dennis Oye Welbeck, who also doubled as the Chairperson for the ceremonypointed out that "the future of our nation depends on these little ones and so I will plead that we as parents do invest in the future of our children through education to be able to contribute to the development of our dear nation."
She further congratulated the graduands advised the students to take the academic activities seriously.
In all, 85 students graduated from kindergarten to basic school and at theJunior High School level (JHS 3).
The ceremony was graced by the Chief of Ablekuma, Nii Larbi Mensah (IV), among other traditional authorities in the area.