Tain District Assembly Inaugurates Menji Area Council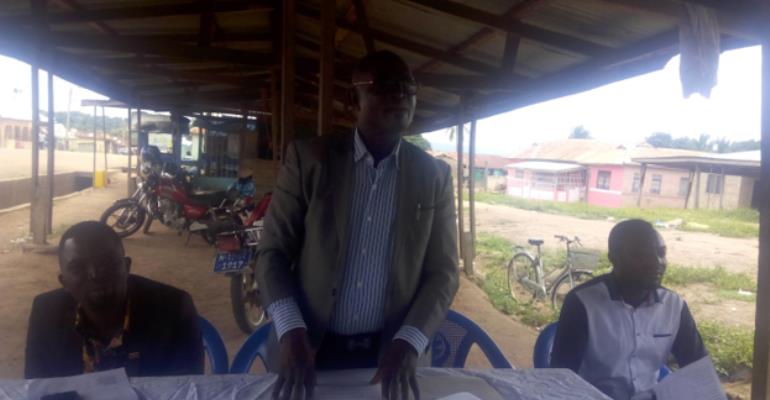 Local governance and participatory democracy have been given a major boost in the Tain District of Brong Ahafo region with inauguration of Town and Area Councils in the district with Menji Area Council being the current one to be inaugurated.
Speaking at the ceremony the District Coordinating Director (DCD) Mr. Nicholas Kumi Acheaw noted that the inauguration and operationalization of the Town and Area Councils form a critical part of the country's governance structure as they bring democracy to the doorsteps of local communities and more importantly, the Assembly cannot function effectively without effective, functional and reliable sub-structures.
The DCD who swore into office members of the Area Council by administering the Oath of office, stated that these local governance sub-structures went a long way to enhance the work of the various metropolitan, municipal and district Assemblies (MMDAs) in the areas of revenue mobilization, project planning and monitoring as well as ensuring the development of the area.
He admitted that, the district Town and Area Councils had been dysfunctional for some time now and pledged that management of the Assembly is committed to ensuring these sub-structures are in operations with the needed logistical support.
Mr. Kumi Acheaw explained the that the composition of the council is made up of 20 members consisting of both elected Assembly members, unit committee members and Chiefs or their representatives within the jurisdiction of the council.
He urged the members to abstain from partisan politics and collaborate with Nananom to ensure the development of the area and to be meeting regularly to discuss issues of concern. Meanwhile apart from the chairman who has the powers to sanction meetings, one –third majority of council members could also cause a meeting to be held and such a meeting shall deemed legal he added.
The District Finance Officer, (DFO) Mr. Baba Karim said the Assembly had undertaken to cede some of its revenue collection responsibilities to the council so that after collection they would retain a percentage of the revenue for the running of their office and other mandatory activities while rendering accounts to the Assembly.
Mr. Amoako Anthony Kwame, the chairman of the council promised he and his fellow councilors would operate win line with the standing orders of the Urban, Zonal, Town and Area Councils as provided by the Ministry of Local Government and Rural Development.