Obuasi MCE Inaugurates Municipal Sports Unit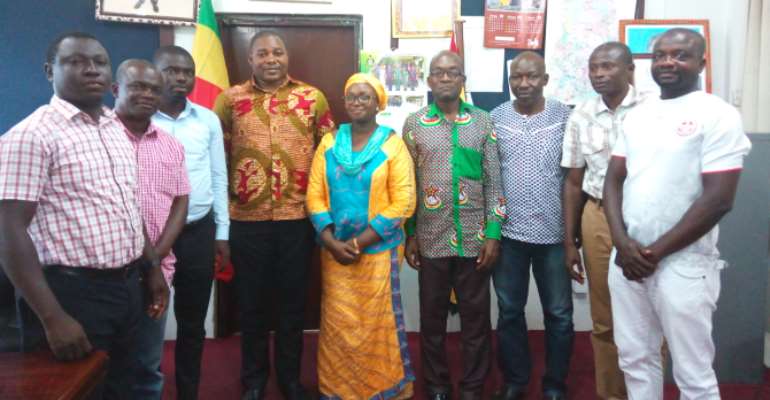 The Municipal Chief Executive for Obuasi, Honorable Elijah Adansi – Bonah on Thursday, 9th August, 2018 sworn in a 7- member committee to oversee the development of sports in the Municipality. Obuasi is noted to have produced very good athletes for the country; prominent among them include John Mensah and Jonathan Mensah of Black stars fame.
After swearing the members of the committee into office, the MCE asked them to take their roles seriously and work diligently to ensure that Obuasi returns to its glory days as a cradle of sports in Ghana and a place for unearthing talents.
As an avowed follower of sports himself, Hon. Adansi- Bonah assured the committee of the Assembly's support. He said "my doors are always opened for members to address matters arising out of the works of the committee'.
Section 23 and 24 of the Sports ACT 2016, ACT 943 mandates all Metropolitan, Municipal and District Assemblies to form District Sports Unit. The Committee/ unit among other things is to:
Assist in the formulation and implementation of Sports policies, programmes and activities of the District Assemblies.
Coordinate the preparation of annual sports budget of the District Assembly.
Assist in the organization of Sports Festival at least once every year.
Assist in the establishment of sports associations in the district.
The Obuasi Municipal Sports Committee/ Unit has a 4 year mandate and would be chaired by Mr. Eric Danso. It has members drawn from the Municipal Sports Authority , Referees Association, National Youth Authority, Coaches Association and Ghana Education Service.
Mr. Justice Amoah, the Municipal Coordinating Director was there to witness the inauguration.