GRA Re-Affirms Commitment To Prosecute Tax Defaulters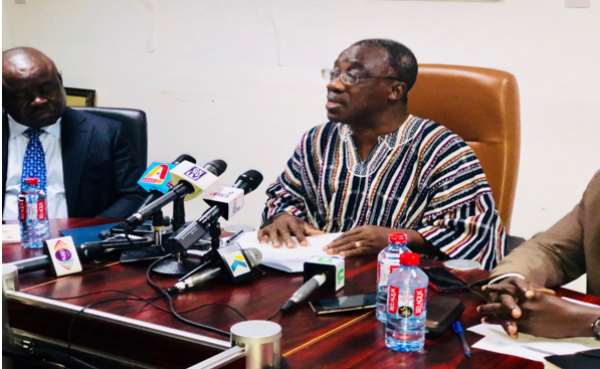 The Commissioner-General of the Ghana Revenue Authority, Emmanuel Kofi-Nti has reiterated that the authority will vigorously pursue all tax defaulters and evaders after the Tax Amnesty period expires on the 31st August, 2018.
He issued a staunch warning to businesses and income earning persons who have defaulted in their tax obligations to take advantage of the amnesty period and honor their outstanding tax obligations or face prosecutions.
The Tax Amnesty offers a limited-time opportunity for taxpayers and potential ones who have defaulted in their tax obligations to come out voluntarily and honor their obligations in exchange for forgiveness of the interest and penalties in some cases.
Addressing Journalist yesterday [Thursday] on the implementation of the New Tax Policy Measures introduced by the Minister of Finance in his Mid Year Budget Review, Mr. Kofi-Nti bemoaned the Tax Amnesty application as not encouraging.
He said the GRA will not hesitate to come crack the whip in its efforts to ensure tax compliance.
"Let me is this opportunity to remind businesses and income earning persons that after the end of the expiry date, GRA will be very tough on all tax defaulters' and evaders," Mr. Kofi-Nti stated.
He stressed that "GRA will go after all persons who failed to take advantage of opportunity."
According to him, All the appropriate sanctions provided in the various tax acts including prosecutions will be visited on tax evaders and defaulters to make sure that all citizens contribute their quota to nation building.
"I wish to assure Ghanaians that GRA will henceforth crack the whip in our efforts to ensure equity in the payments of taxes. This is our pledge to our compatriots," he emphasized.
Tax On Churches
Mr Kofi-Nti says any church that is engaged in any business is subject to tax and that members of same who work or receive payments are also subject to tax.
He was quick to add that offerings and collections are no go areas for the GRA.
He also revealed that the authority is trialing vicious Church leaders who display flashy cars and other properties to ensure tax compliance.