Tourism industry needs financial support - Jake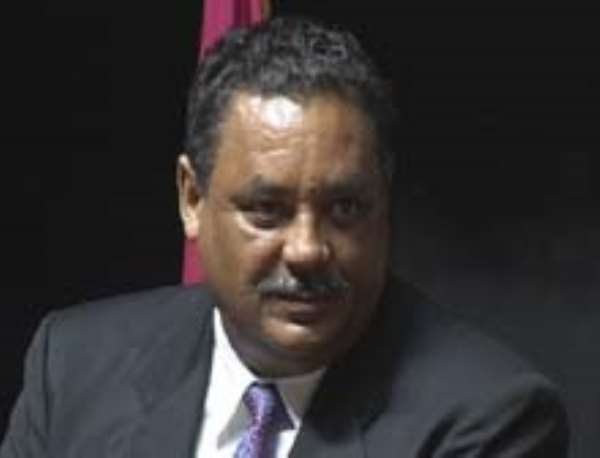 Accra, Oct. 5, GNA - Mr Jake Obetsebi-Lamptey, Minister of Tourism and Modernization of the Capital City, on Wednesday called on banks and other financial institutions to support the tourism industry as it was a major foreign exchange earner and a catalyst for development, especially rural economies.
He said lack of financial support for the tourism industry was a major challenge for its growth adding that the financial institutions could help through the reduction of interest rates to the private sector.
Mr Obetsebi-Lamptey was making a presentation on: "Ghana's Tourism Investment Opportunities" at a day's seminar organized by the Ministry in collaboration with the Barclays Bank Limited.
Participants at the seminar included private tour operators, financial institutions and insurance companies.
He said: "Tourism is a major wealth creation tool which grows at a rate of 12 per cent and contributes four per cent to the Gross Domestic Product per annum and generated 357 million dollars during the first half of 2005 alone."
Banks and other financial institutions, he said, should consider financing the tourism industry, as there were only a few investors in the sector.
He urged private sector operators to strive to achieve excellence in developing tourism products. "Anything short of an excellent product will not get the required patronage; people want value for their money." Mr Obetsebi-Lamptey mentioned marketing of tourism products abroad as a major promotional tool as the country had the needed qualities at attract international tourists.
"The people are peaceful and law abiding; we have sand and sun, eco-tourism, historical sites and a rich cultural heritage, which are very good tourism products. Ghana is also at the centre of the world." The Cabinet, he said, had agreed to market Ghana under the theme: "Ghana, The Golden Experience."
Mr Obetsebi-Lamptey said the sector expected about 700,000 visitors by the end of next year and had targeted one million tourists by year 2007.
Another constraint the industry faced was product development, which, the Minister said, was under-developed, apart from having poor infrastructure, weak human resource base, low investment and the lack of professional hospitality.
He announced that a national tourism plan that would tackle the rapid growth of the industry would focus on increasing hotels and restaurants, employment and expansion of the capacity of car rental companies.
The tourism plan would also look at increasing the capacity of tour operators and ways to boost domestic tourism and ultimately establish Ghana as the homeland of Africans in the Diaspora. Mr Obetsebi-Lamptey said the Ministry was currently promoting private-public sector partnership and developing community-based products for eco-tourism through value addition and access to land. The Minister asked stakeholders in the tourism industry to improve the human resource capacity in both formal and informal sectors by employing trained people.
"We are sourcing credit facilities to promote small and medium scale enterprises and generate large-scale private sector investment. Tourism has a magnificent opportunity for people to make money."
Mr Leonardo Lamptey, Solicitor Secretary at the Ghana Investment Promotion Council (GIPC), in a presentation on: "Investment Incentives for Tourism" said the tourism industry had not been given much incentive even though it had been identified as a service activity for promotion. He said before July 2005, the industry had no location incentives and tax holidays.
However, a new incentive package has been designed for the industry.
The new incentive package has been categorized into accommodation establishment, which would be given exemption from payment of import duties. There is also tax holiday for five years for investors building two to five star hotels in Accra, seven years tax holiday for hotels outside Accra and 10 years for those located at or near tourist sites. The catering establishment, travel and tour establishment, conference and convention establishment, recreational and entertainment establishment would be given similar incentives specific to their respective operations.
There is also the strategic or major investment category, which have incentives given to organizations that market Ghana and attract strategic investors.
Mr Lamptey said there was also a section to help prevent abuse of the incentive package, citing people, who imported cars in the name of establishing a tourism facility only to give them to their relatives. He called on interested investors to register with the Ghana Tourist Board to enable them to get recognition form GIPC. Mr Foster Nyarko, President of the Ghana Tourism Federation, noted that some investors were scared when it came to investing in the tourism industry, and called on the banks and other financial institutions to support the sector.
Mr Nyarko said: "I hope Barclays Bank and other institutions will give the panacea to the financial wahala."