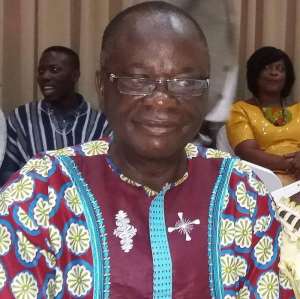 An Educationist and a Founding Member of the ruling New Patriotic Party, Isaac Kwabena Sarkodie Boahin, has reiterated the need for Ghanaians to fully embrace the Double-Track system which is about to be rolled out by government in 400 Senior High Schools beginning from the next academic year.
According to him, considering the sharp increase in enrolment mainly due to the Free SHS policy, the most logical way of absorbing every qualified student is the Double Track system because it is logically impossible for the wide infrastructural deficit which currently exists to be closed in the short term.
"You would agree with me that Ghanaians can't afford to fold their arms and wait till the day government completes all the infrastructural projects and also provide all the teaching and learning materials before we increase access to senior high school education", he said in an interview at Kintampo in the Brong Ahafo region.
Mr. IKS Boahen said the provision of infrastructure takes time and that makes the introduction of the double-in-take system a good initiative and "so government must be applauded for being innovated and proactive."
In view of this, Mr. Boahin maintains that while government vigorously works around the clock to fix the infrastructural needs of the various senior high schools, there is the need to resort to an innovative means to accommodate every Ghanaian child who deserves to go to senior high school.
"As has been explained to Ghanaians by government, the Double Track system is meant to cater for the spike in enrolment into Senior High Schools (SHSs) due to the free SHS policy.
It would go a long way to create room to accommodate all the students, reduce class size, increase contact hours and increase the number of holidays."
Mr. Boahin emphasized that the initiative will solve the problem of congestion by admitting more students without any conditions adding that the long-term economic benefits of this arrangement cannot be pushed under the carpet.