MTN, GIFEC Commissions Rural Telephony Project At Abenaso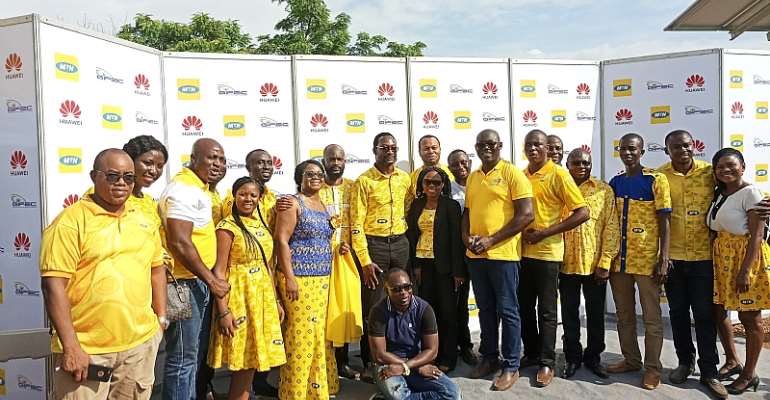 MTN Ghana in partnership with Ghana Investment Fund for Electronic Communications (GIFEC) and Huawei has launched the Rural Telephony project in Abenaso in the Eastern Region to provide mobile telephony connectivity to underserved communities in the country.
MTN together with its technology partners and GIFEC commissioned 55 rural telephony sites over satellite backhaul which provided only voice and Mobile Money services.
As a company committed to continuous improvement, MTN tasked their engineers to find more effective solutions to provide digital services in rural areas. An innovative solution was developed in house with support from our technology partners, which was named the Rural Star Solution.
The Rural Star solution required the re-farming of spectrum within the 900 MHz band for optimal data experience.
Commissioning the project, the President of the Republic of Ghana, Nana Addo Danquah Akufo Addo said expanding telephony connectivity services to rural communities in the country will help open up Abenaso and other rural communities to opportunities for the development of skills and knowledge, as well the growth of businesses and the local economy.
He elicited the help of the traditional authorities in Abenaso and other beneficiary communities to "utilize fully the opportunities that this project will bring to them. We would want to see this project bring about a positive impact on the lives of residents of this community and other beneficiary communities."
The President reiterated his commitment to building a new Ghanaian civilization, "where fair opportunities are given to all to live dignified, productive lives by dint of their hard work, creativity and sense of enterprise.
The Minister for Communications, Ursula Owusu-Ekuful noted that there are about 1020 communities in Ghana without mobile signals.
She indicated that achieving Universal Access goes beyond mere advocacy for networks and services but instead, opening new paths to create and share knowledge about enhancing freedom of expression, about widening learning opportunities, especially for girls and women, about developing content that is relevant, local and multilingual.
"For ICT to truly achieve its potential, it is imperative that Government and policy-makers methodically collaborate with private industry to create the right type of ecosystem. We particularly need to put in place well defined national Universal access plans and stakeholder engagements where partnerships among stakeholders are explored and enhanced," Mrs. Owusu-Ekuful stated.
She added that the ultimate objective of this program is to achieve 100% mobile telephone service coverage throughout Ghana by working in close partnership with the Mobile Network operators (MNO) by 2019.
The Chief Executive Officer of MTN Ghana, Selorm Adadevoh noted that MTN operates with the vision to lead the delivery of a bold digital world and in order to achieve this vision, there was the urgent need to contribute their quota in bridging the digital divide in Ghana by providing coverage for unserved and underserved rural communities.
He added that MTN is committed to ensuring that every Ghanaian enjoys the full benefit of the internet and emergence of digital technology.
Mr. Adadevoh indicated that the project will help to reduce the increasing trend in rural urban migration.
"This is because our communities will have full access to the digital world which provides limitless opportunities for business growth, educational development, agricultural development, access to healthcare and the opportunity to trade in digital products and services," he opined.
He noted that the Rural Telephony project will ultimately open up our rural communities for development an economically empower the people. It will attract tourists, knowing that they will not be entirely cut off from the rest of the world because of poor network services when they visit.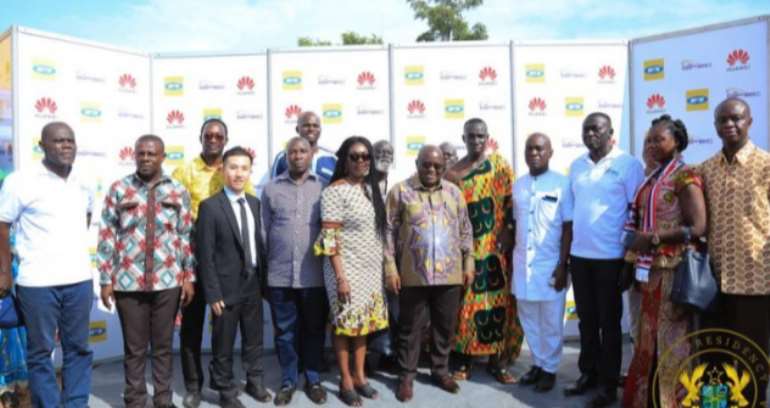 The MTN Boss urged the entire community to be vigilant to ensure that the facility remains protected, so that the optimal performance of the network is maintained.
"In the past we have had instances of battery thefts and destruction of solar panels. We believe that with our collective vigilance, this will be a thing of the past," he intimated.
The Administrator for GIFEC, Abraham Kofi Asante emphasized that these 100 sites provides mobile telephone service to about 500 beneficiary communities throughout the country.
According to him, work is progressing on 200 additional sites expected to be completed by the end of 2018.
Mr. Asante indicated that from 2009 -2016 a period of 8 years, 79 telephone sites were constructed under the previous government. This translates into an average delivery of about 10 rural telephony sites per year.
He intimated that under the presidency of H. E Nana Addo Dankwa Akufo Addo within a record time of seven months (June-December, 2017) 100 rural telephone sites have been built in fulfillment of our mandate of providing universal access to telephony for the people of Ghana.
The GIFEC Admin explained that the programme is aimed at making mobile telephone services accessible to all persons in Ghana.
Emmanuel Ajarfor Abugri
Editor