W/R; Nzema East Municipality holds maiden townhall meeting.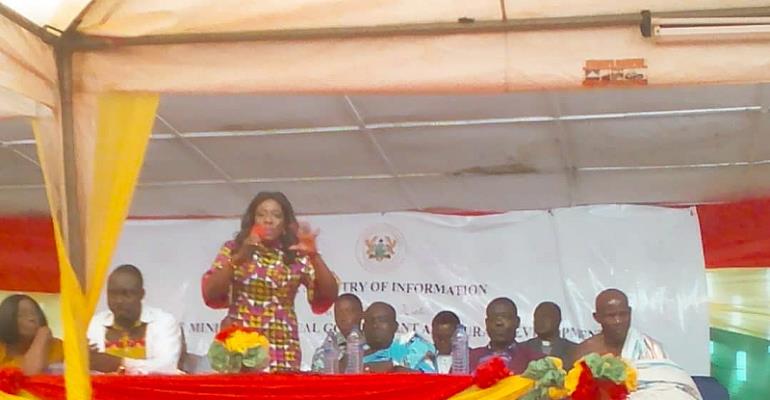 Farming and Fishing are the major backbone activities of the natives of Nzema East Municipality of the Western Region.
The Nzema East gained it's municipal status in 2008 with a housing population of 60, 828 representing 2.6% in 2010 meanwhile they further grew up to 76, 883 in 2017 whiles assembly is aiming to reach 100, 000 inhabitants to gain a metropolitan status.
In view of this the Nzema East Municipal Assembly in collaboration with the Ministry of Tourism, Culture and Creative Art under the auspices of Mrs. Catherine Ablema Afeku held maiden Town Hall Meeting at the Axim Community Centre of the Western Region yesterday August 7, 2018
Addressing the dignitaries, the Municipal Chief Executive, Frank Okpenyen said the purpose of the gathering is for the Nzema East Municipality to discuss and contribute their views on government policies and programmes from the national, regional and district levels for it decision making.
Again it was to seek a way of creating a platform for citizens of the municipality to ask relevant questions on developmental issues and the utilization of assembly's resources to better the livelihood of the people.
Hon. Frank Okpenyan stated that the grave worry in his seated municipality is petty thievery and burglary in shops, offices and homes.
He added, fighting crime is a collective responsibility but it is incumbent on them to put necessary security measures to complement the efforts of the security personnel's at their disposal to equip the security agencies to continue their patrols and periodic swoops to crack down individuals who would disturb the peace and harmony within the municipality.
The Municipal Chief Executive emphasized that the major security phenomenon that threatens them in existence is the pollution of the water bodies and degradation of the environment through illegal mining "Galamsey".
He therefore appealed to the Nzema Traditional Rulers who are the custodian's of the lands in the various communities to the committee on illegal mining and municipal security council in the fight against Galamsey activities in Nzema East.
Hon. Okpenyen used the forum to urge all Nzema East Municipal natives to live up to their responsibility through the payment of taxes and levies regularly and timely to ensure the needed development in the Municipality.
The Minister for Tourism, Culture and Creative Art, Hon. Catherine Ablema Afeku who is a native of the Nzema land assured the good people of Nzema municipality of infrastructural development to uplift the image of her constituency where Nzema East Municipal Assembly is included.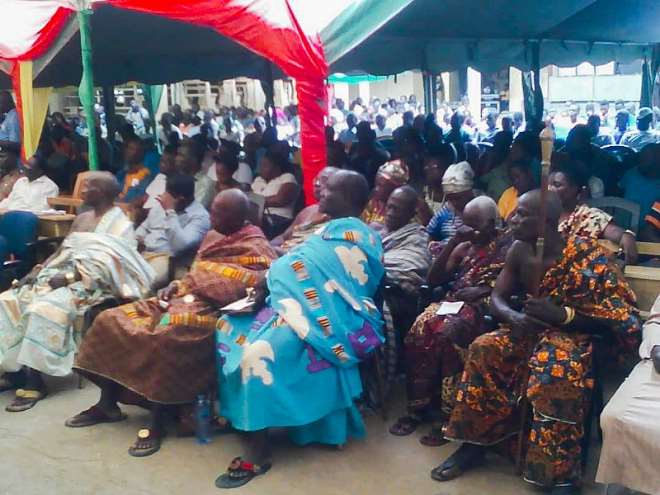 Chiefs And Elders Present