August 8, 2018
|
General News
MP Accuses NPP Of Using Boakye Agyarko As A Poster Boy For Loot And Share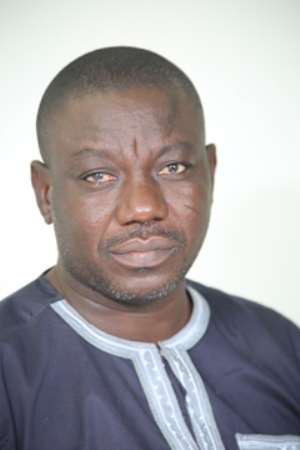 Member of Parliament (MP) for Bolgatanga Central, Honorable Isaac Adongo has accused his Exellency Nana Akuffo Addo and the New Patriotic Party (NPP) of using former Energy Minister Boakye Agyarko as a poster boy for a quick loot and share scheme in the cancelled AMERI deal.
"It was a loot create and share that has gone bad", the Honorable MP emphasized in an interview on Ekosii Sen on Asempa FM today.
Honorable Adongo's comment comes following the dismissal of Boakye Agyarko as Energy Minister. He sacking was as a result of his negotiation of the AMERI deal signed by the NDC Government.
The new agreement was to extend the current five-year deal with AMERI Energy which is currently operating a 300MW emergency power plant in Ghana to 15 years and bring onboard a new company from Greece, Mytilineous International Trading Company, to manage the plant for the period.
According to the Minority MP, the President together with the energy minister were going to share the money that will come out of the new AMERI which was going to cost the country over 1 Billion Dollars over the period of fifteen years. He believes Mr. Boakye Agyarko has been sacrificed by the current Government to save face and cover up what they NPP was really trying to achieve.
He strongly insists the NPP have left the names of the people who were actually going to loot the larger share of the money into their pockets out of the picture. When asked who the people were, he stated that it is the president his Exellency Nana Addo Dankwa Akuffo Addo.
He observes that when a Government is about to sign an International deal that has a multi-year cost implication, our law states that you will need the Minister of Finance to approve but the NPP didn't do and the Minister of Finance does not have his signature on the contract
Secondly, the attorney General is supposed to express his legal opinion on the contract before it is signed but that was also not done. After which the two decisions will be taken before cabinet for a peer review by colleague cabinet Ministers before it is later approved.
None of these things he argues were not done and the Energy Minister went to the President to secure Executive Approval. Something which should not be done if indeed the deal was good.
"NPP Government claimed that the old deal signed by the NPP was inflated by 150 Million Dollars so when they come to power they were going to retrieve the money for Ghanaians. Up till now they have not been able to do that but have gone ahead to negotiate a bad deal for 15 years", he said.
He further argued that His Exellency Nana Addo Dankwa Akuffo Addo has not come out to say he was misled in the new AMERI deal so it implies the President was not misled as some people say.