Unless the President Begins to Fire and Hire, I am Afraid........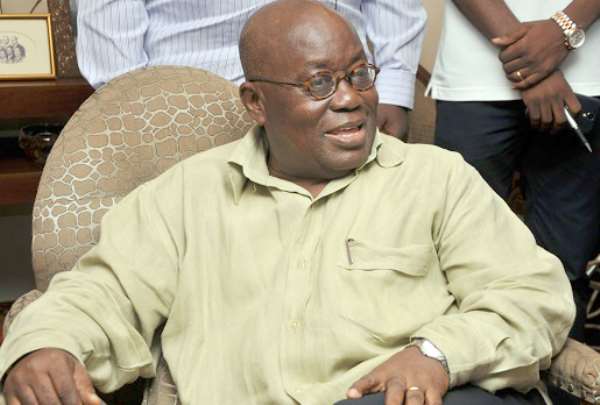 Things will not go well for him and his NPP government as it's expected. His integrity is gradually being tarnished by the very people surrounding him. Most of them happen to be his close or extended family members and cronies. However, as the buck will always stop with the President, he cannot play any blame game when something goes wrong. He will have to own up when any of his appointees does anything untoward that will compromise his credibility through incurrence of public anger and rebuke.
I am saddened to read about the President allegedly misled on the AMERI renegotiation deal. Subsequently, he had to request the immediate withdrawal of the bill laid before Parliament regarding the deal. I wonder how and why the very people he had trusted to do a deal in the best interest of the public and the nation would rather engage in such fictitious acts that will bring public condemnation and ridicule upon the personality of President Nana Addo Dankwa Akufo-Addo, hitherto, an acclaimed incorruptible man.
I am sure it was not for the purpose of cleverly seeking to enrich his family that he brought many of them on-board and into his government. I think, for him to achieve most of his good intentions for Ghanaians, he needed people that he could trust to help him realise his dreams for the country, hence bloating his government with his family members and cronies. It is normally wrong to run a government of family and on cronyism. Nevertheless, for the precarious conditions Ghana was plunged into by the John Mahama NDC-led government, where there was obviously an entrenched institutional "create, loot and share" policy of the nation's resources by the government and the NDC gurus, we could give His Excellency Nana Addo Dankwa Akufo-Addo the benefit of the doubt.
It appears the very close-knit family members and friends coming across as his appointees and confidantes are not helping him in an assiduous and selfless manner as otherwise expected of them, hence things falling apart without the centre holding. No matter what they do secretly to undermine the President in pursuit of their selfish interests of which the AMERI renegotiation deal is a classic example, it is the president himself that suffers the brunt of the resultant public outrage, following any public perception of the government involving herself in corrupt activities. This is why I say, the buck stops with the President, thus, "the responsibility for something cannot or should not be passed to someone else".
It is about time the President started to fire and hire people regardless of those to be fired being his family members or cronies. Should he fail to do that, then I am afraid he is digging his own electoral grave to be buried in come Election 2020. The NDC, like the American President Donald Trump, will obliterate anything started by President Nana Akufo-Addo should they regain power in 2020, similarly as the legacy of former American President Barack Obama is maliciously been negated by his successor.
His Excellency Nana Addo Dankwa Akufo-Addo must muster courage to reshuffle his government by shuffling off non-performing appointees. No matter how close anyone is to him, be they even the allegedly exponential three musketeer-strategists (Messrs Gabby Okyere Darko, Asante Bediatuo and Ofori Atta) who are perceived by the public to be running the government, they must be replaced if their activities become so questionable as to drag the president's name and image into disrepute.
Here is where the name of one Edward Adusei Pianim, a Senior School Prefect at then Kumawu Tweneboa Kodua Secondary School, now Kumawu Senior High School, comes into mind. This School Prefect, from mid 1973 to mid 1974, was a strict disciplinarian. He did not hesitate to discipline his own junior brother or family member by name Stephen Owusu. Stephen was a year behind Edward in the school. He thought his brother had been elected the School Prefect so he could fool about by committing crime with impunity. Little did he know that Edward was not in for that type of nonsense. The way he punished him sent a clear message to the entire student population of the school to culminate in the reign of discipline in the school.
I am not admonishing the President to use any of his family members in his government as a scapegoat. However, any of them found to be misconducting themselves in a manner that will undermine the President or make the public question his integrity must be fired!
The President should not think he will become vulnerable if he were to push aside Gabby Okyere Darko when he does something grievously wrong. I am just citing an example. I know Gabby is not in the government but I should not be stupid to acknowledge the fact that he is extremely influential in the running of Ghana under the NPP government of His Excellency Nana Addo Dankwa Akufo-Addo.
Once a close member is dealt with, same as it was in the case of Stephen Owusu from Kumawu Tweneboa Kodua Secondary School in 1973, the other government appointees with intention to misconduct themselves will stop immediately.
I hope the President will not behave like former President Jerry John Rawlings who once in defence and in retention of Captain Kojo Tsikata when Ghanaians were clamouring for his sack from the Rawlings' murderous Provisional National Defence Council government said, "Who I am without Kojo Tsikata". Therefore, he allowed Kojo Tsikata, his wicked strategist, to dominate him and to commit all unimaginable atrocities he could fantasize as his security adviser.
As it does not belong to he who is leading to redirect their steps, coupled with the fact that I did my best to contribute my widow's mite to get people to vote for NPP and Nana Akufo-Addo into power, in the same vein, I have the obligatory duty to ensure that the President lives up to expectation, hence my suggestions and guidance to the President in particular.
Finally, it will interest many a public reader to learn that most of my predictions come to pass no matter how long they take to manifest. If it was not so, the late Pastor Ohene Annor, a friend, would not have purchased and presented to me a special bible. He said, and had even written in the front page of the bible that should I dedicate myself fully to God, He (God) will use me to accomplish greater things to glorify his (God's) name. This came about as a result of many of the things I told him coming to pass.
I am not a soothsayer but my predictions based on the seasons and times, looking at the trend of affairs, do eventually or often come to pass.
I hope I have not become the enemy of anyone by telling the truth.
May I question the leadership of NPP if at all they know the importance of COMMUNICATION and RECOGNITION in the success stories of running organizations and in teamwork? Effective communication helps with the running of a successful government; in having peaceful marriages; in living a peaceful neighbourliness and in any teamwork. My reasons for hinting on communication and recognition will in the meantime remain shrouded.
The underlying YouTube link or audio hold an important message for all and sundry.
Rockson Adofo