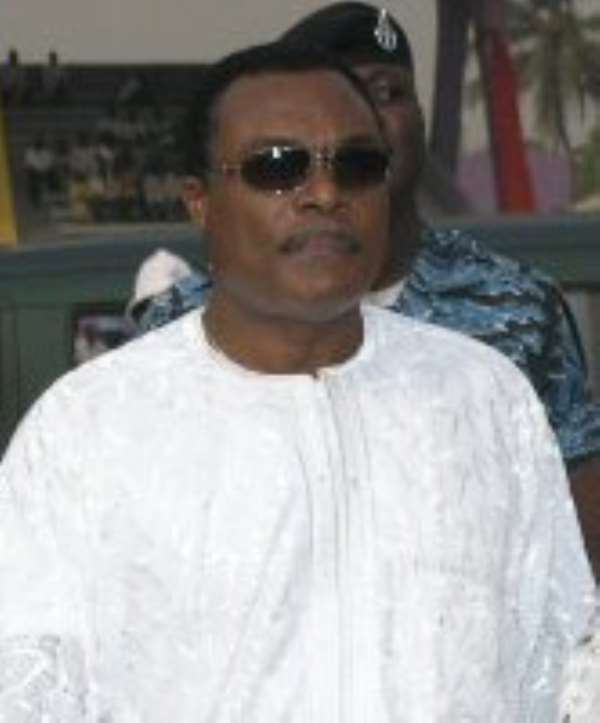 Accra, Oct. 4, GNA - Diseases that afflict the people emanate from the unacceptable and deplorable environmental conditions, Minister of Health, Major Courage Quashigah (rtd) noted on Tuesday. "After consciously or unconsciously wallowing in such horrendous environment and degenerated lifestyles, which produce all the illness and diseases, we turn around and cry for more hospitals and health facilities," he said.
The Minster said this when he took his turn at the meet the press series in Accra.
Major Quashigah said diseases came about because people continued to nurture unhygienic environment, were cruel to water bodies which had become the main source of water borne diseases, while nutrition, among other things, had been taken for granted
"It will be absurd to say people would not fall sick. But falling sick strangely is sometimes a choice we make as individuals and as a nation. Staying healthy is simply the discipline to maintain a hygienic and sanitary environment, consuming clean and safe water, engaging in regular exercise, creating time for rest and recreation among other things," he said.
"As individuals and communities we do not demand healthy environment or adopt healthy lifestyles to reduce the diseases burden," Major Quashigah said.
Rather, we glorify obesity, skin toning, tobacco and alcohol consumption and the degradation of the environment. The Minister called on the nation to pause to ask the total cost of these diseases to the socio-economic development.
"Our situation is aggravated because we seem to be rather working to support huge pharmaceutical companies of the developed countries to the detriment of our economy whilst for lack of so-called scientific proof of their claims, we wilfully ignore our traditional medicine practitioners, who continue to sustain a large proportion of the populace."
He noted that it was an open secret that international pharmaceutical companies spent huge sums of money to develop chemical drugs because developing countries had created a dependable market for them by allowing their people to fall sick.
Major Quashigah said cost of drugs, cost of transporting the sick to health facilities, cost of labour lost from sick leave among other things put together were an invaluable loss to the economy and militated against President John Agyekum Kufuor's vision of moving the country to middle-income status of 1,000 dollars per capita by 2015. He said to fulfil the vision there was the need to ensure that the human capital required for sustained economic development was healthy, intelligent, strong and active.
If this is achieved, Ghana could make significant savings on health expenditure as a result of reduced disease burden. Major Quashigah said if the nation were a person insured, every professional insurance company would categorise it as a high-risk policyholder in view of its debilitating disease burden. For this reason the Minister called on Ghanaians to give the National Health Insurance Scheme their maximum support and said a detailed briefing on the scheme would be organised to update the public on its status.
He called for a paradigm shift that would focus more on the promotion of health in its totality to ensure that people remained healthy in the first place, prevented diseases from occurring and protection from injury. 4 Oct.05