Boakye Agyarko's Dismissal: A Product of Systemic Attrition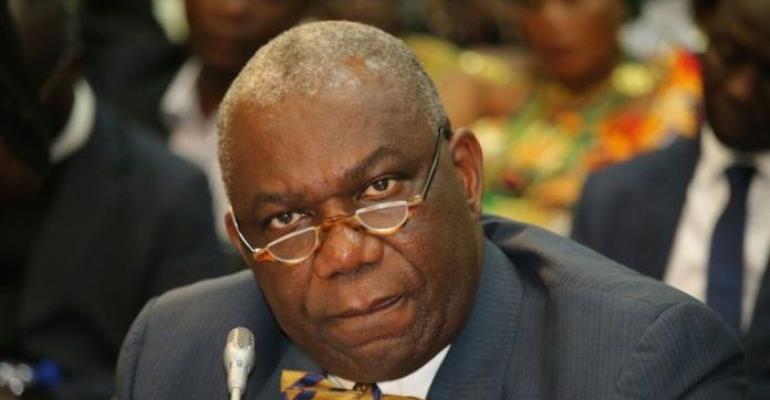 I was having a lighthearted pleasure with a friend in downtown Chicago around Lake Michigan beach over the weekend! Hang on and never be judgmental, this write up is not a product of the bang of red wine induced diatribe if not harangue! Rather, a well-thought through discussion on the thoroughgoing New Ameri deal. I told my friend Koo Nimo, I am convinced that the energy minister, Boakye Agyarko Kyeremanteng, could not be the author of a letter which was said to have misled president Akufo-Addo over new Ameri deal. There he goes again, getting his panties in the wad over Ghana politics, Nimo, intimated with alacrity! No sooner had this debate with Nimo settled than there was a breaking news on Mr. Agyarko's dismissal. "Energy Minister, Boakye Agyarko has been sacked by President Akufo-Addo. A statement from the Communications Directorate of the Presidency copied to citinewsroom.com on Monday said Agyarko's sack takes immediate effect. The statement said MR. Agyarko has been directed to hand over his office to the Minister for Lands and Natural Resources, Mr. John Peter Amewu, who will act temporarily as Minister for Energy, until a substantive appointment is made" (Source: GHANAWEB.COM, Monday August 6, 2018). How dare you sack such an amazing minister president Akufo-Addo, I retorted, as I welcomed the above news with mortifying groans! Boakye Agyarko is a victim of latent bigotry, intraparty contrivances and systemic attrition.
When I was defending the erstwhile electoral commissioner, Charlotte Osei, through articles, I neither did that because fair women are my weakness nor because I support the so-called procurement breaches! I was only blanched with uncertainty because it appears some syndicates are gradually turning presidency into a fulcrum of fictitious letters! I support the senior journalist, Kweku Baako's decision to challenge the authenticity and competence of the petition through a due legal process! Presidency must rather be a cornucopia of competent, selfless and knowledgeable staff. My late grandpa at my village in Brong Ahafo Region used to say that if a second wife jubilates over husband's physical assault and abuse of the first wife, she must be prepared for the same treatment as soon as a third wife comes in. All well-meaning Ghana's should have condemned the porous petition that ended Charllote Osei's job with electoral commission. Boakye Agyarko will never write a letter to deceive his own Boss. President Akufo-Addo himself might not to be aware of these syndicates producing such documents in the country! Mr. President, please do remember what Asantehene told you at the outset of your administration to beware of people around you! Mr. President, you have to dismiss some of your family members at the presidency to give your appointees free hands to operate.
During his braggadociuos and turgid presidential enragement to the citizens of Ghana, following Koku Anyidoho's most inane and asinine faux pas over Ghana-USA military deal, President Akufo-Addo asked a question demonstrating his impeccable erudition in critical thinking! Akufo-Addo queried some Ghana journalists for describing a document which was laid before national assembly as a secret document. Dear reader, I used turgid and braggadociuos enragement because citizens have unalienable rights to keep their leaders on their toes, even so, they should be circumspect and decorous. Right to citizenship by birth is natural unlike the right to presidency which is free entry free exit! Being irate at the citizens for expressing their views was a rebuke to democracy and freedom of speech elegantly crafted on puritan egalitarian ideals in 1992 constitution of Ghana! This was an honorable error from president Akufo-Addo.
Dear President of Ghana, based on your foregoing query to some Ghana journalists, I have a similar question for you. Does it make a scintilla of sense, for a minister of Boakye Agyarko's caliber to write a letter to deceive his own boss; with the power to hire and fire at will? Simply put, I don't think one of your best ministers so far, Boakye Agyarko Kyeremanteng will deliberately author a letter to hoodwink your government in which he is a senior member. Anybody who does that must be an unthinkable oaf! What will energy minister get for deceiving his own president. In 2015 or thereabout, somebody had the effrontery to write a resignation letter for the former General Secretary of New Patriotic Party [NPP], Kwabena Agyei Agyapong. There is no gainsaying about the imperative need for ferreting out the syndicates of fictitious letters within NPP, the presidency or civil service!
It defies logic to think that the energy minister will be so naïve to enter into the same bogus Ameri deal his own political party used to discredit John Mahama's government. Some people are pathological blackmailers and wicked liars! Mr. President you could be misled into thinking that Boakye Agyarko really wrote a letter to mislead you on this Ameri deal. For those who treacherously destroy others for favors "No matter how many plans you make or how much control you are, life is always winging it" (Schopenhauer). Life is in the constant motion of dying! It does not pay to destroy others for a favor.
I think setting up a presidential commission of enquiry will exonerate the energy minister. It is also possible that he is working very hard and had blocked sources of financial leakages to some corrupt civil servants at his ministry. We cannot always sacrifice hard working ministers on unholy altars of unscrupulous civil servants' egocentric convenience. Such systemic attritions must be curbed. Though the president has the power to hire and fire at will, this dismissal of the energy minister is very unfortunate and painful! Let us go into the bottom of this matter, Mr. President! Certitude is not the test of certainty. We have been cocksure of many things that were not so---Oliver Wendell Holmes, Jr. God Bless Our Homeland Ghana!
By Nana Yaw Osei, Minnesota, USA [email protected] .