Ghana Centre For Democratic Development Is 20 Years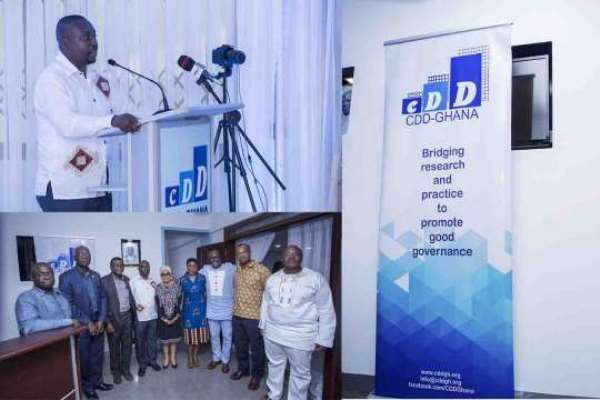 The Ghana Centre for Democratic Development (CDD-Ghana) has launched its 20th anniversary celebration to mark two decades of bridging policy research and practice to promote good governance in the country.
Professor Henry Kwasi Prempeh, Executive Director of CDD-Ghana, said he was proud of the role the Centre has played in Ghana's democratic journey.
He said: 'Twenty years of helping shape Ghana's democracy has not been without its challenges and frustrations. But thanks to the strategic direction of our governing board, our staff's hard work and the unflinching support of the media and other stakeholders, we have managed to stay on course and grown'.
He said the launch would enable them to reflect on their past and to recommit themselves and even to delve deeper into their mandate to promote democracy, good governance, and inclusive development in Ghana and Africa.
He said in its bid to delve deeper into the mandate to promote democracy, good governance, and inclusive development in Ghana and Africa, the Centre has restructured its programme areas into five new segments, namely, Political and Constitutional Governance; Social Inclusion and Equity; Economic and Corporate Governance; Justice, Peace and Security, and Civil Society.
He said their Social Inclusion and Equity programme would continue to fight for the respect of the political, economic, and social rights of all citizens, as well as ensure the wellbeing of women, youth, rural communities, and other socially disadvantaged groups.
'Our newly introduced Economic and Corporate Governance programme, aims to increase the transparency, integrity, and effectiveness of government in its management of public assets and resources, contractual and other transactional dealings with the business sector, and regulation of private economic activity and investment,' he added.
The Justice, Peace and Security programme, he said, would seek to increase and strengthen the responsiveness, accountability and quality of justice and security services provision to local communities and marginalized groups, especially in fragile settings.
'We also aim to leverage our experience and convening power to increase the representation, participation, and impact of civil society and civic actors in the policy space and public governance by leading and supporting diverse collaborations with other civil society organisations and media, and organising and managing advocacy coalitions.
'In addition to our five programme areas, the Centre will continue to implement two special projects: the Afrobaromenter project, which collects public opinion data on political and socio-economic issues in more than 35 African countries, currently headquartered here at CDD; and our Regional Initiatives like the West African Election Observers Network and other Africa-wide initiatives of the Centre,' he added.
Prof Prempeh said those initiatives remained a critical part of their efforts to expand their Africa footprint and to systematically share their knowledge, skills and experiences with other African countries.
Dr Franklin Oduro, Deputy Executive Director, CDD-Ghana, said the celebration was not so much a festivity, but a solemn occasion to pause and reflect on this twenty-year journey.
'It is a moment to look back to the very beginning. This is why we are here today: to pay homage to the founding Directors,' he added.
He said through hard work, dedication, consistency and constant innovation, the centre has attained an enviable position as a leading think tank in democracy and good governance in the country and beyond and was grateful for the founding Directors, Board members, and all stakeholders, including media partners for their continued support.
The occasion was also used to officially unveil a legacy recognition project in honour of four Founding Fathers of the Centre. They are Professor Emmanuel Gyimah-Boadi, Founder and a former Executive Director CDD-Ghana, Professor Baffour Agyeman Duah, a Co-founder of the Centre, Mr William Asiedu Yeboah, also a Co-founder, and Mr Kwasi Abeasi, the First Chairman of CDD-Ghana.
The year-long celebrations, which began in July this year, with a Democracy and Governance Boot Camp for selected Senior High School students from across the country, would continue through to May 2019 with series of activities.
These include series of public lectures in Accra and three other regions, in collaboration with STAR Ghana; an engagement with the private sector, a stakeholder recognition day; the launch of a fundraising campaign, a Democracy Challenge Quiz for SHS's, the adoption of an institution and advocacy on penal reforms.
GNA
By Patience Gbeze, GNA