Clinical And Contagious Characteristics Of Tubercles
Evidence of separate, intentional infection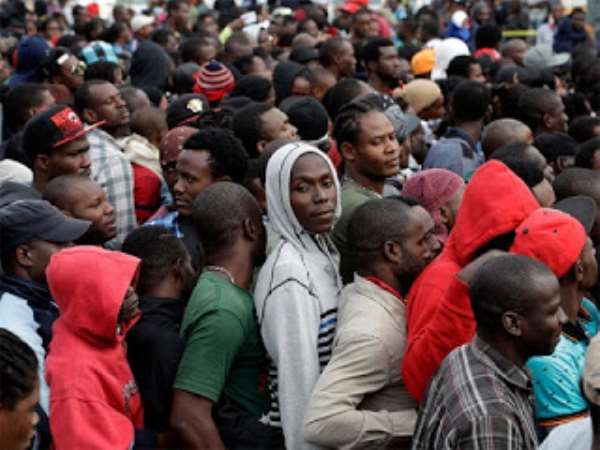 A crowd of Haitian refugees at Mexico's immigration agency at the U.S. border: In the eighties, Haitian refugees in the US camps were deliberately infected with tuberculosis
Tubercles are not opportunistic agents, but rather produce an infection even when the person has a healthy immunosystem. These are the only Aids agents which can be measurably transmitted from person to person.
If the statements made by the USA scientists relating to their reactivation by HIV were valid, they would lead to further infection of millions of people without HIV.
These would be the only 'old' agents which the organism of an HIV-infected person could not shake off, despite already former acquired mechanisms of resistance to this.
If these assertions were correct, then very soon all HIV-infected persons would also fall ill with tuberculosis which would be incurable or constantly contagious to neighbours, each time these persons fall ill.
This would affect children and old people in particular. However, this doesn't happen.
HIV guards against tuberculosis
According to the US government, tuberculosis is particularly encouraged by special weakness in the defence mechanism which is insufficiently predictive for an HIV-infection.
This statement conceals that expressions of Aids, such as for example, malignant lymphomas (apart from M. Hodgkin), reticulum-cell sarcoma, Kaposi's sarcoma and Burkitt's lymphoma, even seem to provide protection against tuberculosis.
If Aids, has already broken out in the form of opportunistic agents, it very rarely leads to tuberculosis. Children infected with HIV ta an early age do not catch tuberculosis.
The tuberculosis count dropped by around 8% in 1986, in the USA, among children up to the age four, whilst for the five to 44 year-year-old, it increased on average by 4.2%.
Tuberculosis is almost never responsible for the death of Aids patients. Obviously, patients with HIV-antibodies have special forces of resistance to this particular agent.
The naturally occurring tubercles are more rare and different than those in persons with subsequent HIV-infection. Tuberculin reactions (signs of tuberculosis going back to a maximum of five years) in 90% or 82% of the population.
Haitian immigrants in the USA or women in Uganda provide evidence of willful spread of the tubercles. Otherwise, a large proportion of the young male economic refugees would have had to have been transported out in ambulances, and Uganda itself would have to be one big tuberculosis hospital.
An indication referred to as a personal communication named roughly 75% of tuberculin-positive persons among non-vaccinated persons under the age of 15 years in Haiti.
Even this noncommittal statement which can't be checked, shows that those, particularly at risk in Haiti, are fewer than grotesque 91% indicated for Haitians in the USA immigrants camps.
Still, in 1980, 2% of the Haitian immigrants in Florida were affected active tuberculosis. Those tubercles found in the Haitian immigrants in the USA are recognisably different from those which predominate in Haiti itself.
Thirty-four percent of these can withstand the medications used to treat tuberculosis. For comparison, 16% of those persons from Haiti who were not treated in the camps had highly resistance tubercles.
There was evidence of new tubercles among Aids patients in Switzerland, Austria, and Germany. There were not particularly infectious.