Somebody Has A Guilty Conscience Here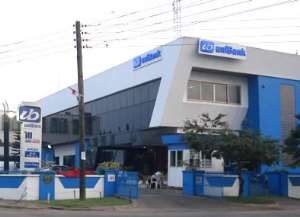 Under normal circumstances, I would have let this grossly uncouth exhibition of deliberate and acute dementia pass by unremarked upon. But these are not normal circumstances. As well, not rejoining it would give the wrongful impression that Mr. Cyril Duodu's vicious, patently callow, at once jejune and inexcusably hollow attempt to malign and undermine the good reputation and credibility of the Akufo-Addo-led government of the New Patriotic Party (NPP) has validity – (See "Collapse of Sovereign, UniBank: 'Nana Addo Dealing Duffuor and Ashantis[sic] Heavy Blows'" Ghanaweb.com 8/3/18). And for his information, the author of the above-refenced tirade needs to be told upfront that when it comes to visionary and foresighted leadership for the salutary and progressive development of Ghana, President Addo Dankwa Akufo-Addo is absolutely without any peer, so far, in democratic Fourth-Republican Ghana. The evidence is there for all to see.
Needless to say, Nana Akufo-Addo has been consistent in his ideological purview, political allegiance and alliance over the past 30 years. That, of course, cannot be said of some of these so-called heavy-lifting NPP stalwarts who treacherously and opportunistically broke away from our camp in order to forge a self-serving ungodly alliance and truck with leaders of military juntas that literally slaughtered Akan-descended high court judges in the name of revolutionary housecleaning exercise. Now, this is what crackerjack psychologists and social scientists call "Ethnic and cultural self-hatred." The brutal assassination of the Akan-descended Accra High Court judges was a striking example of Mafioso/-si dealings, and I dare Mr. Duodu to forensically establish any link between Nana Akufo-Addo and the erstwhile Rawlings-chaperoned Provisional National Defense Council (PNDC). The same cannot be said of the other pathologically reprobate and ever-scheming NPP bigwig whom this rabidly anti-Akufo-Addo critic would have the rest of us believe has been manifestly and inalienably endowed by Divine Providence with supremacist pretensions to dictate NPP political culture in perpetuity.
You see, it is rather amusing to have a Naked King and his even more starkly Naked Princes and Princesses call the development record of Ghana's most progressive and inclusive government into question. At the end of the day, any leader's political record may only be deemed to be as good as the successor to whom that concerned leader directly handed over the reins of governance. I will not go into the details of who deliberately collapsed which banks in the country, except to recall and repeat that old maxim by our sagacious ancestors who so readily saw through cardboard propagandist hirelings like Mr. Duodu and their bottom-trough-feasting shenanigans. To wit, "If you cannot carry your headload, don't blame your head-pad." It is either because you woefully lack the requisite neck-sinews or the strength to carry your load, or you are simply too lazy and/or too dumb for your own good. Would the critic bet his oversized gonads without any fear of contradiction by stating categorically in denial the glaring fact that the Akufo-Addo cabinet has a preponderance of Asante-descended Ghanaians over and above any other ethnic or sub-ethnic group, including Ghanaians of Akyem (-Mansa) descent? So why would Ghana's former Justice Minister target Asante-owned banks? And just how could Nana Akufo-Addo be blamed for the professional incompetence of "Asante-descended" Ghanaians like Dr. Kwabena Duffuor?
Now, let me tell this scumbag of a virulent anti-Akufo-Addo critic precisely how many Akyem-descended cabinet appointees served in the government of that "Gentle Somebody." I could count them on less than one hand; all three of them – namely, Nana Akufo-Addo, Messrs. Yaw Osafo-Maafo and Felix Owusu-Agyepong. You could also conduct a detailed study of the profiles of all executive and cabinet appointees of the Akufo-Addo Presidency and compare them with the profiles of all the cabinet appointees of all the previous Fourth-Republican governments and promptly publish the results. The fact of the matter is that the Akufo-Addo Administration is easily the most diverse and inclusive of all Fourth-Republican governments, vehement protestations to the contrary notwithstanding.
Mr. Duodu may also not know this, but the Akyem are uncontestably among the vanguard ranks of the best educated and most enlightened of all Ghanaian ethnic and sub-ethnic groups or polities. You see, I was born and partly raised by Asantes in both the Asante Region and in Okyeman and elsewhere in the country, so I may know more about Asantes than Mr. Duodu may know about the temperament and the general cultural mindset of the Akyem. I gather this knowledge from the meanspirited tone and tenor of his article. I even have a running joke that I often make about what I personally believe differentiates an Asante from an Akyem. My joke runs as follows: "It takes a well-educated and enlightened Asante to become an Akyem." I expect this joke to definitively put paid to this debate.
*Visit my blog at: kwameokoampaahoofe.wordpress.com Ghanaffairs