Russia To Hold Meeting With African Leaders On Trade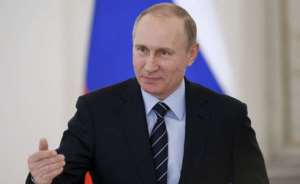 St. Petersburg (Russia), Aug 03, GNA - After several years of high-level consultations, Russian President Vladimir Putin has finally hinted at meeting with African leaders to promote trade and investment.
The Russia-Africa Summit would roll out a comprehensive strategic road map outlining concrete economic sectors for investment, issues relating to trade and culture.
Addressing a group of invited African leaders at 2018 BRICS Summit in St Petersburg, Putin said 'I would like to inform you that we are studying the idea of holding a Russia-Africa summit with the participation of Heads of African States.
This could be preceded by meetings of prominent businessmen, policy experts and public figures. And I intend to discuss this with representatives of African countries'.
He did not provide the specific date or any further details, but said his country had always given priority to the development of relations with African nation's, based on long-standing traditions of friendship and mutual assistance.
The leaders of Angola, Botswana, Ethiopia, Gabon, Lesotho, Madagascar, Mauritius, Malawi, Mozambique, Namibia, Rwanda, Senegal, the Seychelles, Tanzania, Togo, Uganda, Zambia and Zimbabwe attended the special meeting.
Foreign Minister Sergey Lavrov had earlier said in interview with the Hommes d'Afrique magazine stated that Russia's relations with African countries were progressing both on a bilateral basis and along the line of African Regional Organisations - the African Union and the Southern African Development Community.
'Our African friends know the need for Russia's active presence in the region, and more frequently expressing their interest in holding a Russia-Africa summit.
Such a meeting would undoubtedly help deepen our cooperation on the full range of issues.'
He however, added, 'it is necessary to bear in mind that arranging an event of such a scale with the participation of over 50 heads of state and government requires most careful preparation, including in terms of its substantive content'.
As such, specific Russian participants in bilateral or multilateral cooperation should be identified, which were not only committed to long-term cooperation but were also ready for large-scale investments in the African markets.
He said equally important was African business people, looking to work on the Russian market.
Lavrov pointed out that time was needed to deal with all those issues and suggested that both Russia and Africa could start with experts' meetings, for example, within the framework of the St Petersburg Economic Forum or the Valdai forum and other economic cum business related events where business leaders participate.
He promised that Russia would do everything to raise trade and economic ties to a high level of political cooperation.
Currently, Russia's trade with sub-Saharan countries amounted to US$3.6 billion in 2017, compared to US$3.3 billion in 2016 and US$2.2 billion in 2015.
Professor David Shinn, an Adjunct Professor at the Elliott School of International Affairs, George Washington University, who also served as a former U.S. Ambassador to Ethiopia and Burkina Faso, identified project financing in Africa as the Russian government's weakness for investing or boosting economic cooperation, compared to many foreign countries.