Public Sector Reform Strategy To Be Instituted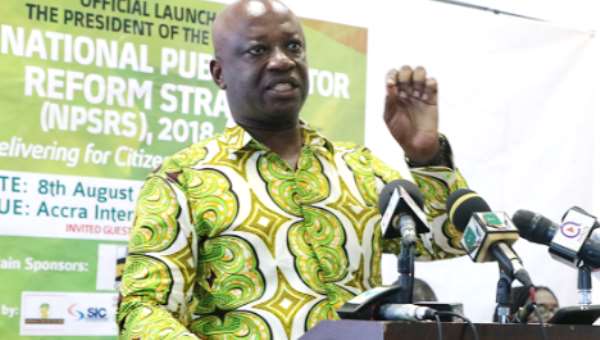 The President, Nana Addo Dankwa Akufo-Addo, would on Wednesday August 8, launch the executive five year draft National Public Sector Reform Strategy (NPSRS), in Accra.
The strategy draft, which was developed by the previous National Democratic Congress Government, is to be implemented for the next ten years, had been approved by the current New Patriotic Party Government in principle and reviewed within the framework and in line with government's private sector-led development agenda.
Addressing the media, on Thursday in Accra, Mr Thomas Kusi Boafo, the Chief Executive Officer, Public Sector Reforms, said the absence of a comprehensive NPSRS has always been echoed by several state and non-state actors as well as development partners.
It had been cited as one of the main reasons for the uncoordinated, inefficient and ineffective reforms in the public sector leading to the poor unimpressive public service delivery in the country.
He said the goal of the strategy which is to commence this year through to 2023, is to enhance service delivery to citizens and the private sector.
He said through this strategy, government aimed to establish an open and impartial public sector at the central and local government levels, with citizens and the private sector as the core of its concerns.
Mr Kusi Boafo said government attached importance to the strategy, therefore a post launch activities had been rolled-out in three zones: Southern zone - Central, Western, and Volta Regions; Central zone - Ashanti, Brong Ahafo and Eastern Regions; and Northern zone - Northern, Upper East and Upper West Regions.
Mr Kusi Boafo said the first post-launch activities were slated for Cape Coast for the Southern zone on August 15.