Local Rice Importers Call For Vigilance At Ports, Entry Points To Fight Tax Invasion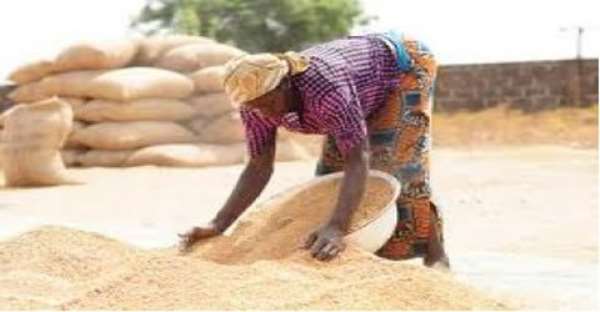 Local rice dealers say has called for more diligence at the ports and other entry points in a bid to prevent importers from under-declaring their goods.
Media investigations have revealed that the country has been losing $21 million annually mainly through under-declaration and misclassification by importers.
Speaking to Joy Business, the Executive Secretary of the Ghana Rice Interprofessional Body (GRIB), Evans Sackey, said the industry can only be competitive if the importers pay the right duties at the ports of entry.
"The ability and potential to produce is there, the difficulty is what we have been talking about. When these rice importers under-declare their goods at the ports, it makes their rice cheaper than what is produced locally.
"Now that they have realised that the GRA is losing money, authorities have begun talking about it,"Mr. Sackey said.
He added that "if somebody is able to cut corners to import rice into the country and the price becomes so low then, the local producers don't have the motivation to produce.
"Therefore if the tracking system can be done very well and we make sure that, these guys pays the right duties at the port, then the local producer will have space to produce since they can all compete head-on on the market."
Documents sighted by Joy Business and the B&FT shows that the majority of the large rice importers are all culprit in the corrupt act.
For example, in June 2017 for a quantity of 500MT 1kg bagged fragrant rice bought by one of the importers in Vietnam at $572 and valued at $286,000, the importer under-declared it at $440 giving it a total value of $220,000.
Mr. Sackey in his analysis stated that "I think also that the vigilance and human interference at the ports should be reduced in terms of how duties are paid which will ensure that they right duties are paid on rice.
"This measure enables GRA to be able to monitor all the things that come into the country."
Ghana's current rice consumption is about 1.8 million tonnes, with local rice production less than 600,000 tonnes. The Ministry of Agriculture is expecting rice production to hit about 630,000 tonnes by end of the year.