Mahama Panics Over Bagbin And Other Candidates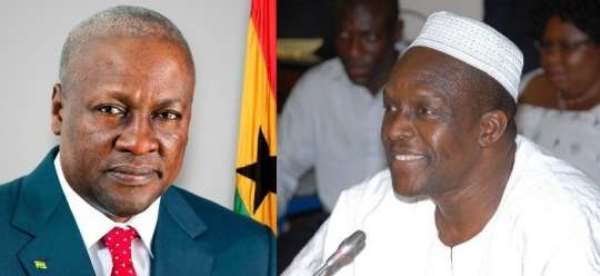 Mr Wisdom Kukubor, Ketu South branch Executive member of the NDC has stated that it was the fear that former President Mahama might lose out on the NDC Presidential slot that compelled some MPs to come out with an endorsement list.
'From where I sit, the moves to create the false impression that former President Mahama has the support of majority of the party's rank and file to become Flagbearer again are driven by the fear of Mr Alban Sumana Bagbin, Professor Joshua Alabi and other Prospective candidates.
'We know the former President himself is behind the moves…they are particularly reacting in panic to Bagbin's recent radio interview. If you ask my honest opinion, Mahama has a phobia about Bagbin,' Mr. Kukubor said.
He pointed out that the supposed list of 94 NDC MPs who had endorsed former President Mahama for the Flagbearership of the party in 2020 was coming just a week after Mr Bagbin, granted audience to the media and gave a sterling performance.
Recently in that interview, a vintage Alban Bagbin had reiterated his stance that the NDC party, over the years, had not been fair to its own members and support base, including pro-NDC media houses most of whom had collapsed.
The neglect of the party's own by the party, he pointed out, was worst under the leadership of former President Mahama, who had even abandoned the party machinery itself.
The Second Deputy Speaker of Parliament and MP for Nadowli-Kaleo affirmed his intent to let the spoils of power reach the party itself and its members, including delegates if he is made flagbearer and subsequently President.
With a fierce reputation as an incorruptible man, the Nadowli-Kaleo MP pointed out he would do so without cutting corners.
Following from the interview, Hon. Bagbin's approval rating within the NDC soured with many more party executives and members being won over.
On Wednesday, Ambassador Victor Gheho also openly endorsed the candidature of Professor Joshua Alabi, a situation that had spurred the MPs to intensify their desperate moves to get Mahama elected.
'Isn't it curious that in just a week after Mr Bagbin's encounter with the media, we are hearing of a supposed list of MPs endorsing John Mahama? Wisdom Kukubor asked rhetorically. He said the list was fake and calculated to dim the chances of others.
Interestingly, some of the MPs whose names appeared on the list have denied signing it, with Mr Joseph Naabu, MP for Yunyoo revealing that at least 50 of the 94 MPs had confided privately that they were tricked into signing the document.