Vaccination Campaign In Ukraine Leads To Measles Epidemic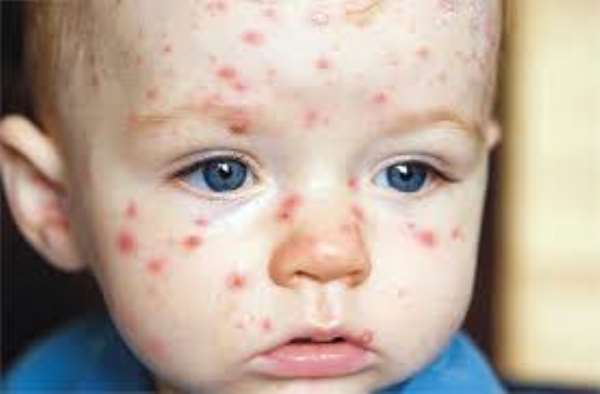 A child with measles
In recent years there has been a shortage of measles vaccines in Ukraine. Vaccination coverage was the lowest in Europe by 31% in 2016, and yet there was no significant number of measles cases.
In 2017, sufficient vaccines were available for a 'catch-up campaign' and 90% of the children in Ukraine received the MMR, and since then there has been an explosion of measles cases.
The counter has already surpassed the 12,000! Why is the media ignoring the measles outbreak in Ukraine? We hope that many people will read this article on our blog 'Secrets of Aids and Ebola Facts Journal' until the end for ample information over what is actually happening.
Moreover, we don't need the media anymore for exposing the truth because they are too much intertwined with the pharmaceutical industry because of losing advertisements.
Nevertheless, the failing of the media, as we discovered it could easily be concluded that the decreasing vaccination rate from 95% in 2008 to 31% in 2016, is the cause of a gigantic measles outbreak in Ukraine.
But as always the World Health Organization is twisting reality in a cunning way and as always the media remains silent.
WHO and media here are some facts to think over!
About 12 000 people have been infected with measles in Ukraine so far this year. Of those affected, 9158 have required hospitalization and 9 have died, according to information provided by national health authorities on April 27, 2018.
Large-scale outbreak response measures have improved since the start of the outbreak in 2017, over disease and restore high routine immunization coverage.
Ukrainian health authorities
According to Ukrainian health authorities, with WHO and UNICEF support, they have recovered huge ground in the fight against measles. But there are still many vulnerable children and adults in the country, and this highly infectious disease continues to find them.
Marthe Everard, WHO Representative in Ukraine. "More needs to be done to ensure that everyone is protected." Who is she fooling? Everybody in Ukraine knows the measle explosion is caused by increased vaccination except those who sell vaccines.
The dramatic drop in immunization coverage
In 2008, 95% of eligible children in Ukraine received their second, and final, recommended dose of measles-mumps-rubella vaccine (MMR) on time according to the national routine schedule. By 2016, this rate had fallen to 31%, the lowest coverage ever.
In addition, in 2016, only 19% of children received the third recommended vaccine dose of diphtheria-tetanus-pertussis (DTP) and 56% of children received the third recommended dose of oral polio vaccine (OPV).
According to WHO this tragic nationwide drop in immunization coverage is an increasing number of children in susceptible to dangerous, preventable diseases.
Among these so-called dangers, it created the ideal setting for the spread of measles, one of the most infectious diseases affecting humans.
Measles can affect people of all ages, but infants, young children, and older adults are the most at risk of serious measles-related complications and death. Well WHO and Ukraine authorities let's figure this out.
WHO AND THE MEDIA MANIPULATES FIGURES
In recent times we have seen that the number of measles cases (12,000 +) should be large enough to reach the media. Moreover, 2395 cases of illness in Italy were front-page news in 2017.
The 'danger of the disease' was strongly encouraged and the outbreak served as an argument to oblige 'irresponsible parents' to vaccinate their children.
Furthermore, a statement from Dr. Zsusanna Jakab, Regional Director for Europe of the World Health Organization, from a press release that also appeared on the WHO website in early 2018, has been widely adopted by all major newspapers in Europe.
But the measle explosion in the Ukranian never mentioned or investigated by all media. Why Dr. Zsuzanna Jakab?
"Every new person affected by measles in Europe reminds us that unvaccinated children and adults, regardless of where they live, are at risk of contracting the disease and passing it on to others who may not be able to be vaccinated.
"More than 20,000 cases of measles and 35 lives lost in 2017 alone. Throughout Europe are tragedies that we simply can not accept." Says Zsuzsanna Jakab.
But Dr. Zsuzsanna Jakab, who thinks that 20,000 cases across Europe are a "tragedy we can not accept," is strikingly speaking about 12,000 cases only in the Ukraine and 8.000 in the rest of Europe. Do the authorities know more than they want the population to know?
WHAT IS THE REACTION OF HEALTH AUTHORITIES IN UKRAINE?
The number of cases of measles confirmed by WHO laboratory is relatively small. But Ukraine is restoring immunization coverage in a gigantic effort to stop the outbreak of measles, which affected more than 12,000 people this year alone.
It does not matter whether the campaign completely misses the target and probably causes more measles instead of occurring.
A new Ukrainian order of vaccines is placed to combat the 'epidemic', an epidemic which is caused by the contaminated vaccinations.
The Ministry of Health in Ukraine reported the following: "At the request of the Ministry of Health (MOH), the United Nations Children's Fund (UNICEF) has delivered a new set of vaccines against measles, mumps, and rubella. Officials from the ministry report that it involves 800,000 doses."
While the Ukrainian Minister of Health Dr. I.R. Ulana Suprun adds: "For reliable protection against infectious diseases, vaccination coverage must be higher than 95% - then we can talk about collective immunity."
"For the first time, Ukraine is fully equipped with vaccines, reliable, safe and effective. I call parents to have children vaccinated, and doctors encourage patients to vaccinate."
Editorial
To us, the writers of this blog, it is incomprehensible. They have apparently forgotten that in 2006, in a year that the degree of vaccination was 98%, no fewer than 42,742 cases of measles have been reported!
The bizarre behavior of politicians and policymakers, the manipulation of figures, the 'selective' reporting in the media and the increasing pressure to oblige parents to vaccinate?
It all takes such extreme proportions that it is not surprising that the citizen's confidence in the system decreases.
Firstly, we wonder whether the WHO is guilty of criminal offenses or not. Is it not time to speak the truth?
Secondly, government and business are no longer interested in ordinary citizens diagnosed with measles because of vaccinations.
Thirdly, how it is possible that the media does not inform us, and apparently is not (yet) aware of what is going on? Is it not the work of journalists to disseminate information and bring out the truth?
The Europe population is no longer interested in buying newspapers because there is nothing significant inside than an advertisement catalog.