The self-acclaimed DOG Akufo-Addo is really in an indecent haste to hang himself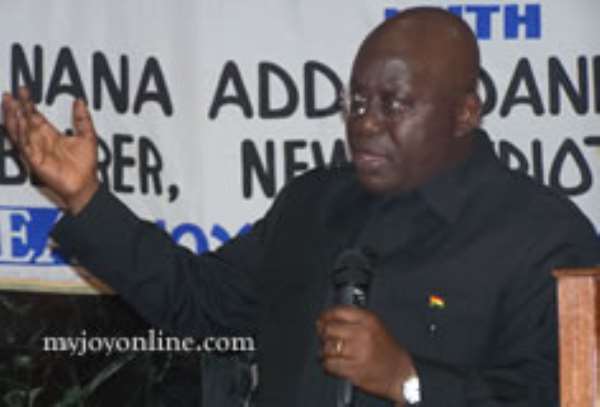 Folks, "things are really knocking things" to challenge Akufo-Addo and to prove to him that managing the affairs of Ghana goes beyond the populist nonsense that catalyzed his rise to power. And that rise to power itself is now being challenged by reality as proved by happenings mostly orchestrated by him. The man in the mirror can't recognize himself anymore!!
Over the past few days, Akufo-Addo's government has made moves with terrible boomerang effects. We will raise them for comment to suggest that Akufo-Addo is hastening but making little progress in moving Ghana out of the woods.
Here are two fundamental angles:
1. FREE SHS PROGRAMME SOMERSAULTING INTO AN ILL-DEFINED DOUBLE IN-TAKE SYSTEM FOR SHS STUDENTS
Running further into the realm of duplicity with the free SHS programme and announcing a double-intake system for admissions, etc. in the SHS that has hit raw nerves and angered the major stakeholders (particularly teachers' unions and members of the government) just because of its fuzziness, this Akufo-Addo government portrays itself as insensitive and sick to the marrow.
Its credibility is in tatters now just because it has run ahead of itself to implement the ill-defined free SHS programme for mere political currency without any assurance of sustainability in view of economic reality. Ghana doesn't have the capacity to support such a venture because its economy is weak. Without donor and IMF support, the Ghanaian economy is nothing but a wish-wash.
The spur-of-the-moment addition of the double-intake system that wasn't part of the original agenda on the free SHS programme is making everything fly out of the roof. Many stakeholders, including the government's own genuine supporters and admirers (of the Danquah-Busia political culture merely appreciating the return to power of their political front and not interrogating what new things Akufo-Addo could bring to bear on efforts to transform Ghana) are baring their teeth. This house of empty braggarts is gradually being divided against itself and cannot be expected to hold!!
More interestingly, there is confusion in the government's own camp as the Finance Minister (Ken Ofori-Atta) has begun singing a discordant tune that damns the free SHS programme and which Mustapha Hamid (known better as a Misinformation Minister) has vitriolically reacted to, describing Ofori-Atta's stance as "a dead opinion" to be disregarded because it doesn't sync with Akufo-Addo's stance. No sane Ghanaian will listen to him. What is Akufo-Addo pursuing that Ofori-Atta isn't, both being celebrated Akim conservatives fixated on hereditary and hegemonistic tendencies seeking to exploit the loopholes in the Ghanaian economy to assert their self-importance as achievers?)
(Ignorant Ghanaians need to read about the history of the Ofori-Attas, Akufo-Addo's, and the Ofori Panin Fie and why the Joint Provincial Council of Chiefs and the manoeuvres of the C.I.A. agent called Dr. Joseph Boakye Danquah further deepened the gulf between them. From the happenings in this Akufo-Addo's "family-and-friends" government, we can read deeper meanings with which to poke their ribs all the more. Pesky bugs to be squashed but that have already begun squashing each other from within, as is emerging all too soon).)
Folks, having been given much to know now about the confusion rocking Team Akufo-Addo, I am dancing my way around at this point---clearly because what informed Ofori-Atta's turn-around, agreeing with the Mahama government's approach to SHS funding---is informed by the economic reality, which a noise-maker like Hamid doesn't know. Who cares about such a ventriloquist far removed from reality? Can he even know why the Liar-in-Chief Bawumia (the fellow Northerner that he should have been attached to in this deceptive political subterfuge) isn't connecting with him?
(Clearly, the main issues emerging now to damn the Akufo-Addo government are at the economic front---banks collapsing, economic activities crumbling, debt stock rising, etc.), which Bawumia should have been outspoken on as he did in the pre-Election 2016 era. He is now dumb, which says a lot and will say more when the Akim hegemony leaves the scene. Can Bawumia lead the Northern Ghana flag at the NPP front that others before him couldn't? A question for them, not I, to answer, but which answer I want to know because it will inform my next political move to punch more spots in their political quicksand!!)
What Ofori-Atta has seen to scare him about the funding of the free SHS programme as originally conceived and being implemented is beyond petty political consideration and isn't known to Hamid (a mere tool being used to run the fool's errands of an Akufo-Addo now portraying himself as a dog that will resist being given a bad name to be hanged!!).
The reality is that Ghana's economy cannot support the phantom wholesale free SHS programme, which Ofori-Atta has cleverly stuck his neck out to proclaim without regard for political currency. And he is supported by learned administrators and informed public officials of the NPP caliber now fearing their own shadows.
Who in the NPP camp will eat the humble pie to prevent the downward slope that the dog called Akufo-Addo is positioning himself to slide into and doom the NPP's hold on political power? And once there is some economic benefit to be derived from political power, who will be so stupid as to damn everything by way of isolationism?
The truth that characters of Ofori-Atta's type are revealing to the NPP under Akufo-Addo is clear: that it won't hurt the government to eat back its own vomit, admit to Ghanaians that it bit off more than it could chew and must be pardoned for the lapses so it can be helped to come out with a more realistic approach to solving the problem. Ofori-Atta knows it all; Hamid doesn't and should be "clipped" (only if those doing the clipping know what Ghanaians expect of Akufo-Addo).
And who says that the major devastating problems facing Ghana are at the secondary school level? (Now that Akufo-Addo has begun urging the management of the tertiary institutions, particularly the universities, to prepare room for absorbing the products of this haphazard free SHS programme, the alarm bells should be ringing really loudly and clearly.
What was the NPP's line of thinking while pushing the campaign promise of free SHS education to absorb such a huge chunk without considering the capacity of the universities at the time to soak them up? What was feasibility study done to prove the efficacy or otherwise of this huge dream and its impact on the already-crumbling system of education (lack of infrastructure and resources being the worst) at the university level? And who says that all products of the SHS want to be at the university to discover their path to success in life?
Folks, as things are turning out to be now, it is clear that Team Akufo-Addo is crumbling and desperately looking for a straw to hang on to. That straw can't come from the constituencies already beguiled into accepting that huge promise and putting Akufo-Addo in power.
It won't come from the Getfund or the Banks, not to talk about the Scholarship Secretariat. Now that banks are collapsing under Akufo-Addo, what is the hope that funding for such a dream will be forthcoming from them? Fears…. Fears… and more fears about the future for students manipulated on the basis of free SHS and ushered into a future of uncertainty!! Only a wicked government will go this way.
2. MATTERS AFFECTING THE ELECTORAL COMMISSION
True to his nature as a seeker of political authority on the basis of heritage, Akufo-Addo rose up to tradition and acted as a reliable player among his ilk to damn everything considered as an affront to the Danquah-Busia tradition. The record of his rabble-rousing political gymnastics says it all. Put in power as such, he hasn't relented in giving us more to know him as he is and will be till he pays his dues to Nature.
What he will leave behind will be a huge substance of inquiry at all levels (academic, as a 3rd class holder in Economics when he left the University of Ghana in 1967; a questionable lawyer who practised law in Ghana for 40 years thereafter without a genuine legal qualifying certificate from the Inner temple; a politician who sold his conscience to diverse and antagonistic political fronts---as an Nkrumahist, Danquah-Busiaist, Anti-Rawlings, and pro-Rawlings).
We are still interrogating Akufo-Addo's approach to governance in our 4th Republic, paying careful attention to the positives and negatives, even as we focus on the negatives because they threaten our future move toward sustaining the democracy-of-sorts that has stood Ghana apart from others in our part of the world ravaged by poverty but still staying intact for life and limb to be protect. Not so for other countries placed in the same paradigm. Ghana is special as such and must be so protected.
That foundation (of political legitimacy in a democracy) resides in the Electoral Commission and its ability to stand firm as the final arbiter in the electoral process, supported by the will of the people, not the clout of the government or its opponents with irreconcilable differences and using crude means to influence voter stance.
In a democracy seeking viability and sustainability, the will of the people must always be supreme, which the Electoral Commission (whether theoretically defined in official documents as "independent" or not) must uphold and be supported to uphold.
Let's cut short the long trail to say that all that happened in the subterfuge leading to Akufo-Addo's rush to dismantle the hierarchy of the Electoral Commission under Mrs. Charlotte Osei to put in place those carrying the very heavy baggage that he is all too soon sagging under will be tested by the history of our 4th Republic when the electorate determine their leaders on the basis of "delivery" (You know it and shouldn't ask me for any explanation here).
In this regard, it is clear that the package of comedy of errors that the NPP's "Concert Party" enactments gave Ghanaians to enjoy at Elections 2008 and 2012 has assumed terrible dimensions to provoke worry and apprehension instead of relief from the scare-mongering political antagonism that victory at Election 2016 afforded Akufo-Addo to outdo or outgrow. Thus far, nothing new. So, what is what?
Granted that political power and everything devolving from it now reside in Team Akufo-Addo, the mistaken position may be taken that it can do all it thinks fit to clip the wings of its political opponent (herein perceived as the NDC) so it can remain as the force to reckon with in Ghanaian politics.
And it may want to dig in all the more to prosecute its agenda as such, which explains why it has put Martin Amidu in place as the Special Prosecutor and established a paraphernalia for scare-mongering political rhetoric to create the impression that with the NPP in power, Ghana is set to become a glorious country, where business will boom and just anybody with anything to offer will be on top of life.
The reality isn't so, clearly because what those who had led Ghana before Akufo-Addo saw still remains a daunting reality to fear. All the dreams that put Akufo-Addo in power still remain the vainglorious stupidity that will rebound to hurt its promulgators unless they redefine their strategies for solving Ghana's problems so they don't cut their own throats with their sharp rhetorical swords.
As of now, I can say with all the evidence of happenings on the ground that Akufo-Addo has failed and needs more than the usual "rally-ground talk" (Thanks to Justice William Atuguba) to claw back lost confidence, respect, and whatever else!!
The stark truth is that he seems to be the last straw that anybody clinging to the Danquah-Busia political culture will uphold as a force to reckon with (knowing very well the "Dombo" aspect has evaporated because of the emasculation of the Bawumias and Co. and the death of the
Folks, we are not "career" politicians but mere politically invested citizens observing goings-on and commenting on them as we deem fit, using the rhetorical weapons available to us. We seek not to be where we cannot be because we acknowledge the fact that we don't have what it will take for us to redeem a lost people who believe the lies told to them by self-seekers. We are, however, happy to contribute our quota in commenting on happenings in the hope that those who think they are what they are to lead the people out of doom will act conscientiously as such when we prick them on the basis of their successes and failures. So far, their failures outweigh their successes, which is alarming and is at issue.
Otherwise, life must go on. We will make our voices heard on happenings affecting our country (Ghana) and the whole world as we use the gift of hindsight to comment on happenings. No holds barred!! Let those who see things differently confront us with alternative "truths" and not mere insults and baseless name-calling.
But before we sign off, let's ask why Parliament hasn't been involved in all the happenings that we have criticized thus far.
Why hasn't Parliament (as stipulated in the Constitution to be the protector of the people's rights been involved in determining how the system of education should be shaped and why Akufo-Addo shouldn't have the blank cheque to do things as he has done and will continue to do to the disadvantage of norms?
Or why it wasn't involved in the processes leading to the appointment of Ms. Jean Mensa as the Electoral Commissioner? Shouldn't the President have nominated her for Parliament to vet and approve or disapprove her as such?
Why did Parliament not make its presence felt in all that has happened for Akufo-Addo to impose her on Ghana as if she is the solver of problems that have made the Ghanaian electoral system unproductive? (Many disturbing concerns here, folks).
Again, folks, why did Akufo-Addo use the so-called "EXECUTIVE POWERS" to endorse the obnoxious Ameri deal when Parliament had deferred hearing on it because of its defects? (And we are now being told that the agreement as of the time that Akufo-Addo endorsed it was defective and inconclusive)? What is happening? Why is this government running ahead of itself?
Need I go any further? No!! Kwesi Nyantakyi has already told us that Akufo-Addo incurred a lot of debts in selling property to secure the Presidency and must do all in his capacity to recoup it all. Godspeed!!
I shall return…
By Dr. Michael J.K. Bokor
(E-mail: [email protected] )
Thursday, August 2, 2018