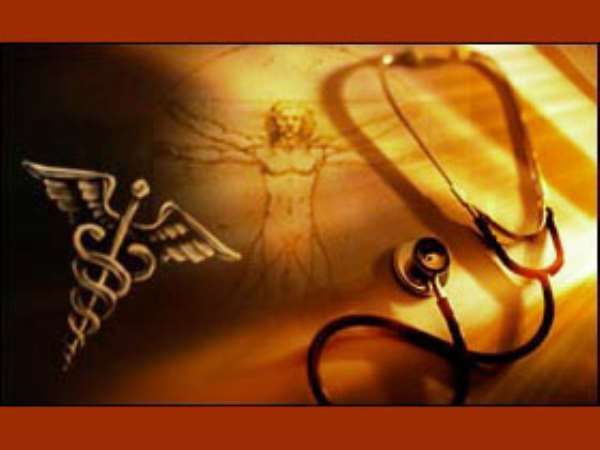 Accra, Oct 1, GNA - Anyone with high blood pressure at 37 years or younger should be assumed to have inherited a hypertensive code from both parents.
Such a person stands a high risk of heart or kidney failure and stroke among other complications of the heart after 40 years should have regular blood pressure check and restrict salt intake to delay or prevent the complications.
Prof Felix Konotey-Ahulu, a renowned Professor of Human Genetics gave the advice on Friday, at a lecture on "Healthy Living After 40," in Accra.
The lecture was part of a series he delivered under the broad topic, "Contemporary Health Issues", as part of activities marking the 115th anniversary of the Scripture Union (SU) of Ghana, organised by the Greater Accra branch of the Union.
Prof Konotey-Ahulu said issues of high blood pressure, smoking, overweight, alcohol consumption, road traffic accident, sex and procreation and personal health insurance should be of concern of everyone after 40 years old.
He said the negative effects of smoking on one's health are bronchitis, emphysema, lung cancer, bowel cancer, eye problems and advocated that all hotels in Ghana should have special isolated rooms for smokers to avoid passive smoking by others.
Prof Konotey-Ahulu said overweight as a result of overeating, could lead to health problems such as osteoarthritis, bowel difficulties, abdominal and breast tumours and sleep problems. He stated that healthy lifestyles and enough exercise are an effective way of avoiding a number of diseases after attaining 40 years old and said, "move a little more and eat a little less."
"Don't travel with a driver that smells of alcohol. It is better to be late than to be the late" and called for the formation of a travel watchdog group to stem the tide of road accidents, he said.
He said having sex with a prostitute had very serious complications and stated that "sex with village prostitute means sex with about 20 people, with a town prostitute between 100 and 200 people, with a city prostitute 1,000 to 2,000 people and international prostitute, mentioning Cote d'Ivoire, Kenya, Zaire, Germany, Philippines and Thailand as between 10,000 to 20,000 people.
He compared living standards in developed and developing countries and said it was necessary for developing countries to improve political administration, control population and reduce poverty to improve living conditions.
Prof Konotey-Ahulu advised individuals to have personal insurance scheme in addition to the National Health Insurance to have prompt medical attention.
In an open forum during, which the issue of garbage in some urban centres in Ghana came up for discussion, Professor Jonathan Addy, Physician Specialist at the Korle Bu Teaching Hospital, said garbage collection should be handled by professional engineers and not relegated to the background to ensure a clean environment for quality health. Professor Kwabena Frimpong-Boateng, Chief Executive Officer of the Korle BU Teaching Hospital, said diseases must be tackled from its source rather than mere prescription of drugs.
According to him poverty in Ghana was self inflicted and called for a change of attitude to create wealth as well as being cautious and careful about the food one eats to avoid a number of diseases. In an interview, Mr Jude Hama, General Director of SU, said the Union was founded in 1890, but became active in modern times in 1952 with the a group called the Boys Camp.
He said the Union had trained a number of Church leaders including the Reverend Dr Robert Aboagye Mensah, Presiding Bishop of the Methodist Church and Pastor Mensa Otabil, Founder of the International Central Gospel Church and Professor Kwesi Andam, Vice Chancellor of the Kwame Nkrumah University of Science and Technology. Mr Hama said the Union was active countrywide, about 87 per cent of senior secondary schools and more than 600 Junior Secondary Schools.