Tullow Ghana Energises Science Education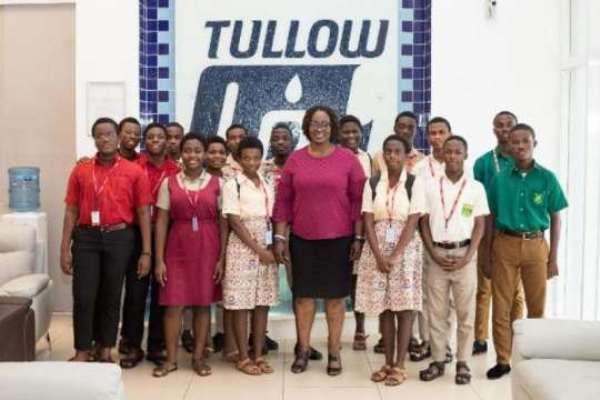 Tullow Ghana Limited (TGL) through its 'Science Technical Engineering and Maths (STEM) initiative' is focusing on encouraging students to consider STEM education as a viable choice for a future career.
Tullow Ghana is therefore putting regular interventions in place to encourage learners in kindergarten, primary, secondary and tertiary educational institutions in the country to consider the option.
A statement from the company and copied to the Ghana News Agency said STEM projects funded by Tullow had included capacity building for teachers, rehabilitation and construction of science labs and other infrastructure, as well as scholarships to tertiary students.
It made this known when the company, last month hosted the semi-finalists from the 2018 National Science & Maths Quiz (NSMQ) to its offices.
The statement said the visit to TGL's offices in Accra was part of the company's sponsorship of the 25th anniversary of the just ended NSMQ, adding that, the participatory school included Prempeh College, Mfantsipim School, Keta SHS, Mawuli School, Krobo Girls SHS and Ghana National College.
It said the visit was to provide the science students with an insight into the varied career opportunities available to them in the oil and gas industry beyond the traditional career choices.
The tour also provided an opportunity to showcase Tullow's STEM programme, which is one of three social investment pillars with the two others being Enterprise Development and Shared Infrastructure.
The statement said the visit also gave to students and teachers an opportunity to engage with some of the technical staff and have a practical experience of their job.
The Company had partnered Ashesi University, Kwame Nkrumah University of Science and Technology and the University of Ghana, to award scholarships to develop and build the capacity of young Ghanaians to take up careers in science, engineering & technical fields.
As part of the success of its STEM initiative, TGL had sponsored the 'Sci-Tech fair', which started in 2017.
GNA