UNICEF, USAID Join MoH To Fight Infant Deaths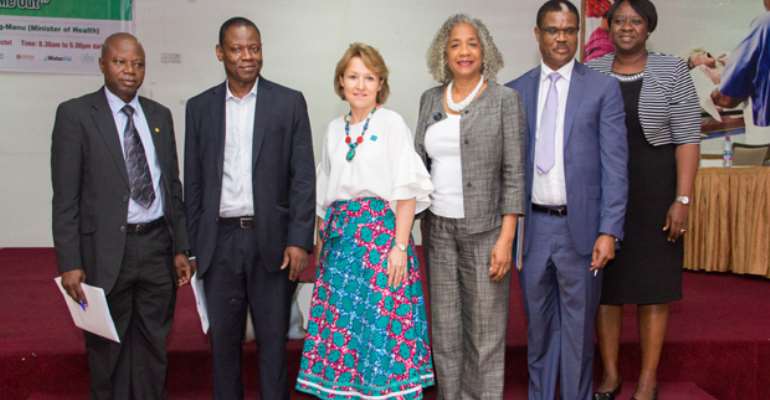 The United Nations Children's Fund (UNICEF) and the United States Agency for International Development (USAID) have expressed commitment to join the Ministry of Health (MoH) in the fight against infant mortality in Ghana.
At a meeting for stakeholders on Tuesday, the MoH made a passionate appeal to individuals and corporate institutions in the country to join the fight to curb newborn deaths.
In a speech read on behalf of the Minister of Health, Kwaku Agyeman-Manu, at the 7th National Newborn Stakeholders' Conference held at the Mensvic Grand Hotel in East Legon, the Director of Administration & Legal at the MoH, Hamidu Adakurugu, said the MoH is committed to working together with government and other stakeholders to implement measures to improve newborns' survival and health in Ghana.
He disclosed that child health is a priority of the government and, thus, forms the reason why international interventions and recommendations have been undertaken by the MoH, sector agencies and departments to promote child health development.
Mr Adakurugu said for the first time in decades, Ghana has seen a significant decline of about 19 percent in mortality rate.
He expressed commitment from the MoH to ensure an efficient health delivery system in Ghana.
"Having signed on to the Sustainable Development Goals (SDGs), we are committed to making universal health coverage a reality in Ghana. We, therefore, deem it obligatory to breach all identified inequity gaps in our health delivery system in Ghana," he said.
"It is our moral and ethical responsibility to ensure that newborns survive so that they represent the future of Ghana. It is, therefore, in our own interest to invest in newborn health.
When we invest in newborns, we are investing in the foundation of the future of this nation," he posited.
The Country Representative for UNICEF, Anne Claire, commended the GHS for allocating resources for scholarships for selected medical officers to pursue advanced paediatric education.
"This would go a long way in ensuring quality newborn care," she said.
Madam Claire added that UNICEF is devoted to help the fight against newborn deaths by aiding in the generation of evidence, establishing care units, among several other initiatives.
The USAID Mission Director, Sharon Cromer, also commended the MoH, GHS and government for their leadership in making newborn and child health a priority.
She disclosed that The Nurturing Care Framework was launched last month by the Second Lady of the Republic, Samira Bawumia.
Madam Cromer also expressed commitment by USAID to partner with Ghana on the 'Ghana Beyond Aid' journey.
"USAID Ghana is committed to helping Ghana successfully undertake this journey to self reliance.
We are steadfast partners in this journey and investment in newborns and children is a necessary step to self reliance," she stressed.
The conference, which was held under the theme: 'Reaching Every Newborn, Count Down To 2030; Don't Leave Me Out', was aimed at soliciting support from all stakeholders to advocate action and mobilise stakeholders' support towards newborn care.
BY Nii Adjei Mensahfio