Krachi Nchumuru Begins Volta Cashew Plantation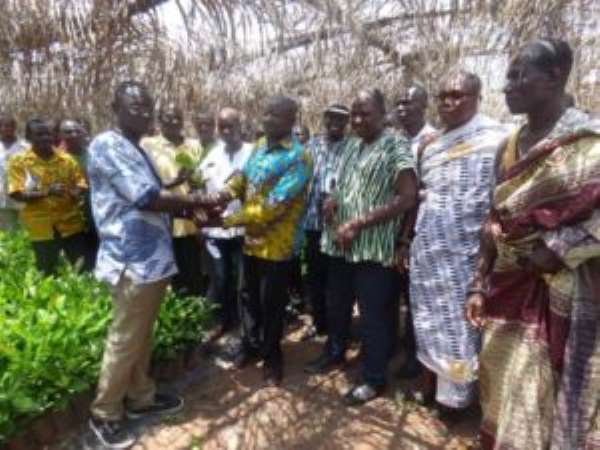 The government has distributed 53,000 cashew seedlings to over 4,000 farmers in the Krachi Nchumuru District of the Volta Region, as part of its social intervention programmes to fight poverty through the 'Planting For Food And Jobs' initiative.
This is the first such cashew farm project starting in the region, and is expected to reduce poverty, as cashew ripens faster and has more per yield than cocoa.
Distributing the cashew seedlings at Lornkortor, one of the farming communities in the Krachi Nchumuru District, Augustine Appiah Akwasi, District Chief Executive (DCE) of the area, noted that the poverty level in the district is very high, and so believed that the intervention by the government is going to reduce it.
He added demand for the cashew product is very high on the international market. Based on this, he said, the government would, through agric extension officers, ensure that cashew farmers are given the needed education in better farming methods to ensure bumper yields.
"This is a flagship programme of President Akufo-Addo, and the government would see to its full success," he said.
The District Director of Agriculture, Abdul Kwame Enkye, explained that the area's soil is viable for the cultivation of cashew.
The Chief of Banda, Nana Kwesi Omakumi II, assured all the farmers that land for the cultivation of the cashew is litigation-free, and was happy that the programme would, eventually, reduce poverty in the district.
Should the government be able to concentrate on this programme and give attention to the farmers by constantly educating them on proper farming methods, adding, the first bumper yield would attract many more farmers to go into cashew farming.
This would reduce poverty in the entire region.