Agric Must Be Business Not Way Of Life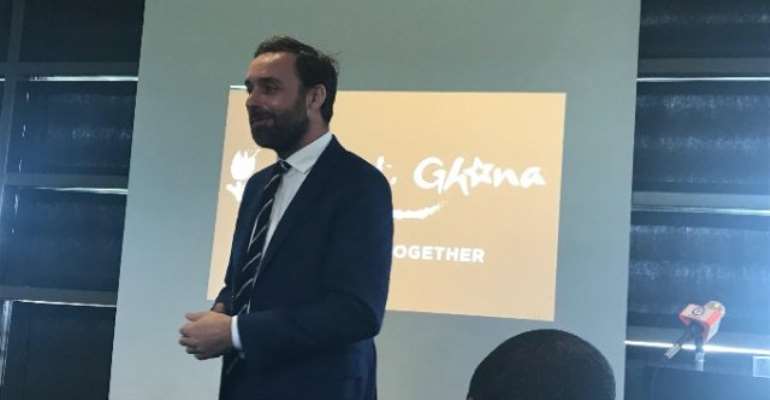 The Dutch Agricultural Counselor to West Africa has called for a fresh approach to Agric on the continent in a way that treats it as business and not a way of life.
Bram Wits said this is important to ensure that farms are more productive and that farmers earn more from their labour.
"We see Agric development as something that always has to be market driven and as a business. Agriculture is a way of life for many people but it shouldn't be. Agriculture is a business endeavour. The only way for a sector to grow and be able to feed all these people is for it to be a business," he noted.
Bram Wits was speaking at his first engagement with the media at the Netherlands Embassy in Accra since he was posted to Ghana as Agric counsellor to oversee Dutch Agric activities in the West African sub-region.
He is the first Agricultural Counselor the Dutch government has sent to West Africa to further strengthen the ties between the Netherlands and the sub-region.
He used the engagement to discuss his ideas and views for Dutch-Ghanaian agricultural cooperation in the coming years.
He told the media the Netherlands is ready to make its expertise that has made it the second biggest exporter of agricultural products in the world available to Ghana and West Africa.
"In Europe, we see West Africa as a very exciting partner. We want to engage with this region because we are very much dependent on each other. We want to create a foothold for Dutch agriculture in West Africa," he said.
The agricultural sector in the Netherlands constitutes about 10% of the Dutch economy and employs thousands of people.
Deputy Head of Mission at the Netherlands Embassy to Ghana, Cecilia Wijgers
More than half of the total hectares of land in the Netherlands is used as farmland with 56 percent being used for arable and horticultural crops.
The Dutch agri-food industry accounts for some 20 percent of the Netherlands' total export value and has the second highest private research and development investment rate in Europe.
They export more agricultural products than any other country in the world apart from the USA making the Netherlands a role model country on agriculture.
Mr. Wits explained he is committed to ensuring the increased engagement between Ghana and the Netherlands benefits both countries so it's not a one-sided relationship.
"We can make money from West Africa. But we also want to help and develop the agricultural sector here in Ghana and West Africa. We want to grow together. The tools needed to do so is something that the Netherlands can bring. So we are a bit different from other donors," he noted.
Deputy Head of Mission at the Netherlands Embassy to Ghana Cecilia Wijgers said they have over the last four years been supporting various agricultural initiatives in the country focusing on cocoa, oil palm and horticulture.
Richmond Frimpong, President of the Ghana Agricultural and Rural Development Journalists Association (GARDJA) which partnered the embassy for the event noted there was a lot that Ghana could learn from Dutch agriculture.
Story by Ghana|Myjoyonline.com | Joseph Opoku-Gakpo | Joy News