Influenza Precursor Of Aids As A Biological Weapon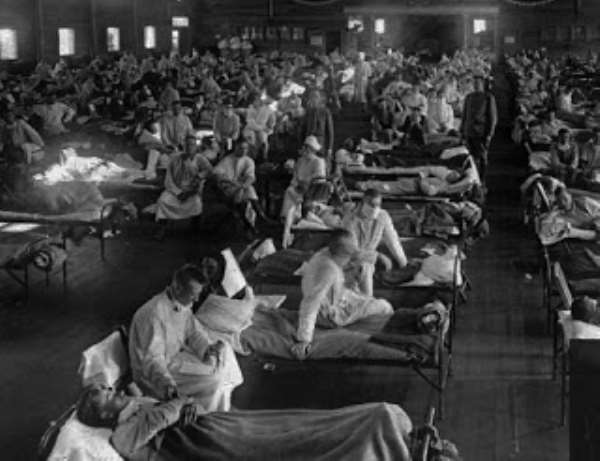 Influenza victims
Influenza, Appearance, and Spread
Six of the Aids diseases or their agents became significant in common with the mass influenza infections of 1918 and 1919, during World War I. The original virus for HIV, namely the agents of Infectious Anaemia of Horses, Cytomegalo Virus, Epstein-Barr Virus, cerebral toxoplasmosis, Pneumocystis carinii-pneumonia, and Isopora belli.
What we only need to mention here about the generally known harmless influenza, is that it is cured after roughly ten days and is not contagious afterward. Influenza epidemics have already been known in the past in countries north of 40th degree of latitude.
Influenza can be connected with influenza viruses. The spreading of these viruses is allegedly unclarified, even to this very day. How does an influenza strain originate in a human or animal, and then infect hundreds million of persons more than ten thousand kilometers away in a couple of minutes?
Contact from person to person is out of rule. Airborne transmission is ruled out because for this to happen, hundreds of thousands of people would have to stand in a row across the wind and with a gigantic effort cough upwards into the direction of the wind at the same time.
If possible, this only during rain-free nights, since sunlight kills the viruses, and the rain would wash the agents into on the ground. It is probable that the agents are already existing, and can be triggered by immunosuppressive factors.
Mycotoxins could come into play here. They can withstand light and temperature, and they are released especially during cool and damp weather, in spring and autumn. They give rise to the emergence of many agents.
The use of mycotoxins allowed several diseases to thrive in humans and animals. Diseases, especially of the brain, came up then which till that times had been meaningless. Inoculations with poxviruses provoked brain diseases and death.
Arteriosclerosis and Alzheimer's disease are long-term consequences. With respect to cancer of the esophagus, local incidences coincided with those of the influenza outbreaks, thus, leading us to conclude the same cause.
A large part of the increase in cancer diseases must be acknowledged as a consequence of mycotoxin. The most acute effect was encephalitis epidemic or lethargic. Their relationship to the influenza outbreak has been proven.
As a result of this, Parkinson's disease is still prevalent today in millions. Encephalitis resulted also in shocking changes of the character of infected persons: criminal acts, megalomania, and brutality. There was conjecture already in 1923 that there was a connection between epidemics of that kind and the Reformation and revolutions in the past.
In an editorial in the Lancet of 1981, it was said in agreement that the rise of the National Socialism in Germany was partly attributable to the cerebral diseases afflicting the population at that time. Since 1919, the disease became an epidemic in Germany. It affected more people there than any country.
In the whole world, 80,000 cases were recorded by 1929, Stern, in 1936, estimated that there were 50 times higher. Several disorders went unrecognized. It predominantly occurred along stretches of the railway lines, thus, affecting railway employees.
Jewish people were especially susceptible. It is remarkable that the United States of America soldiers were scarcely affected by this cerebral diseases. This shows that additional substances were required for this to happen.
Influenza, Maidism, Favism, Maedi, Visna
Encephalitis epidemica was characterized by three types of cerebral disorders:
a) Changes in personality
b) Lethargy and
c) Motor-disorders
a) The changes in personality were similar to those poisoning caused by molded fungus maize-maidism.
b) Lethargy is also the result of poisoning by substances contained in beans and beans pollen. They can be absorbed through breathing or eating. The poisoning favism or phaseolism is named after the Vicia faba and Phaseolus lunatus beans.
c)Motor-disorders can occur after eating a certain type of peas. These are referred to as lathyrism, after the Lathyrus cinera pea.
In Iceland, from 1932 onwards, pulmonary changes and impaired movements were generated in sheep. The diseases were referred to as Maedi and Visna. These are the first mass diseases caused by retroviruses the Maedi-Visna viruses. Many believe these to be the precursors of HIV.