Parliament Takes A Break Amid No Show For Ken Agyapong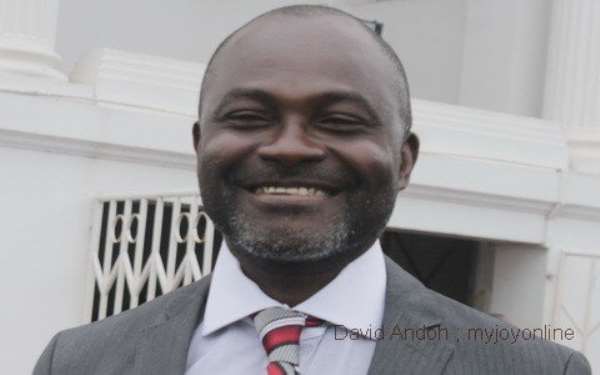 Parliament on Saturday proceeded on a three-month break without taking a decision on Assin Central MP, Ken Agyapong, who has been found guilty of contempt of Parliament by a special committee.
The Privileges Committee found the legislator guilty of contempt for saying that Parliament was a useless institution.
Explaining why no decision was taken on the highly anticipated matter, Majority Leader, Osei Kyei-Mensah Bonsu explained, legislators resolved to proceed on the annual recession "on a good note," and hence deferred the recommendations of the committee to the next meeting in October.
The Privileges Committee had recommended meting out either a one-year suspension or a reprimand on the outspoken MP.
The Majority Leader, however, stated that an emergency meeting on September 10, may be used to take a decision on the maverick Parliamentarian.
"We had a pre-sitting meeting and we said we wanted to leave on a very good note so we decided that when we came back we then come and consider the [recommendation]…it is likely we will come on the 10th of September, if we do, we should put the matter to rest," he told Joy News' Parliamentary Correspondent, Joseph Opoku-Gakpo.
According to many, a decision on Saturday by the Parliamentarians would have been a test of the perceived influence Mr Agyapong wields among his peers. Even without any action by the Parliamentarians, it is clear enough where the scales of influence tilt towards.
In the video link below, Vice Chairman of Parliament's Privileges Committee, Andrews Egyapa Mercer explains the committee's inability to recommend definitive punitive measures against Assin Ken Agyapong.
Contemptuous comment
Mr Agyapong, known for speaking his mind, was hauled before the Privileges Committee of Parliament for suggesting Parliament is "cheap" and "useless" for making Osei Kyei Mensah Bonsu a Majority leader.
While he admitted using the word cheap, he vehemently denied saying Parliament was useless, accusing Minority Chief Whip Muntaka Mubarak of fabricating stories about him and relying on discredited and social media comments.
Mr Mubarak had moved a motion on the floor for Kennedy Agyapong to be dragged before the Privileges Committee for insulting Parliament. He accused Kennedy Agyapong of calling Parliament useless for electing Osei Kyei Mensah Bonsu as a leader.
The New Patriotic Party (NPP) MP, however, argued he only took on the Majority Leader and has since apologised to him personally.
I am sorry
When Mr Agyapong appeared before the Privileges Committee two weeks ago for a final hearing, he rendered an apology to Parliament for describing it as cheap.
He told the privileges committee if the House feels slighted by his comments made on his television station, NET2 TV, he apologises for making them.
"I am not a tin god, no! but I was furious at Muntaka because he also did not cross-check his facts and put everything together...he attacked me on radio saying all sorts of things. Today that the evidence has come out what are we all sitting here going to say?" he quizzed.
He explained that he was infuriated by the negative things people were saying about him after his criticism of Anas Aremeyaw Anas' Number 12 documentary.
Story by Ghana | Myjoyonline.com | George Nyavor | [email protected]