Take Full Advantage Of MTN IPO And Invest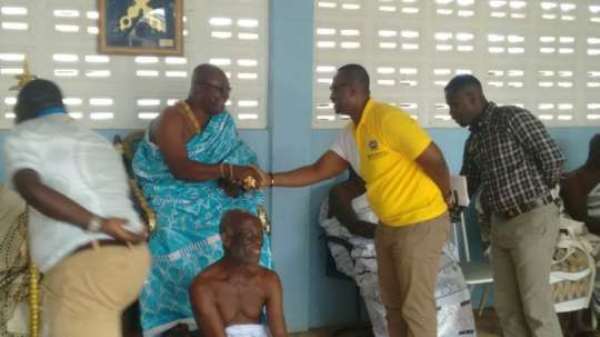 The Acting Senior Manager of South East Business District of MTN, Mr Prince Nyarko has advised Ghanaians to utilise the opportunity given to them by owing shares and becoming part of the MTN Company.
He said the Initial Public Offer (IPO), which sought to float 35 percent shares of the company formed part of collective efforts to build a better society.
'The shares are going for 0.75pesewes per share and one can purchase in multiples of ten, this means that with just GH¢7.50 one can own shares in MTN Ghana'', he explained.
He further advised interested persons to speak to their financial investment experts for in-depth understanding before making a decision to buy the shares.
Mr Nyarko said this when MTN Ghana made a donation to the Chiefs and people of Akyem Old Tafo as part of the celebration of the Ohumkan Festival.
The items donated included; a cheque of GH¢5,000.00, Airtime worth GH¢500.00 and Drinks Hamper worth GH¢1,000.00.
He said his outfit was proud to be investing in such festivals because it helped to project the African Society and considered an integral part of African Culture.
The Akyem Tafohene, Osabarima Adusei Peasah IV, thanked MTN Ghana for the kind gesture extended to the chiefs and people of Akyem Tafo.
He commended the contribution of the company in diverse ways, which seeks to promote the socio-economic development of the country.