Asante-Akim South Supports PWDs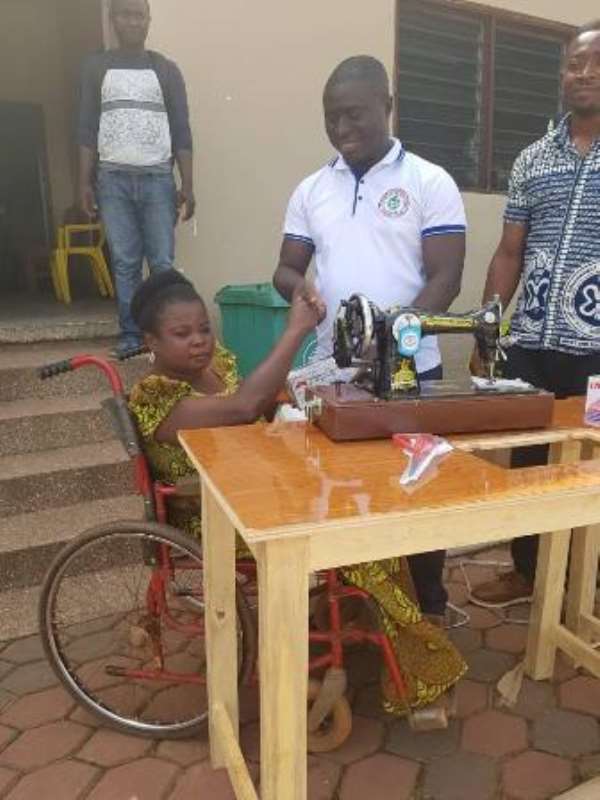 The Asante-Akim South Municipal Assembly through the Social Welfare and Community Development has provided Persons Living with Disability (PLWDs) with various forms of support from their share of the District Assemblies Common Fund.
A total of 124 PLWDs in the municipality have so far benefitted from the disbursement of the fund which seeks to improve their lives.
The beneficiaries received support in the form of payment of school fees, medical bills and provision of items needed to set up businesses for those who want to engage in income generating activities.
Mr Alexander Frimpong, the Municipal Chief Executive (MCE), at a ceremony to present sewing machines to some beneficiaries, said an amount of GH¢ 129,000.00 had been spent on the project.
He said 10 per cent of the amount had gone into school fees, 10 per cent on medical bills and the remaining for the procurement of items for those learning trade as well as those in economic activities.
This follows government's directive that assemblies should cease giving cash to PLWDs in the disbursement of their share of the common fund, but rather procure their needs for economic activities they intend to engage in.
The MCE disclosed that over 1,300 disabled persons had been registered across the district, saying the exercise went beyond engaging members of the association to capture every person with disability in the municipality.
Mr. Emmanuel Atuahene, Municipal Head of Social Welfare and Community Development, said arrangements had been made for 41 more people to be supported in the coming weeks and his outfit had developed a strategy to reach out to all PWDs captured in the registration exercise in the next five years, saying the municipality recorded one of the highest number of PWDs.
Selection of beneficiaries had been evenly spread across the district to ensure fairness, he stated.
GNA
By Yussif Ibrahim, GNA