MCE For Ayawaso West Rejected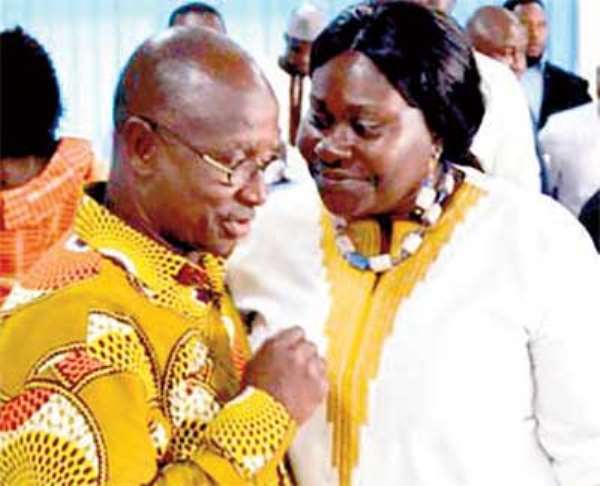 Sandra Owusu in a chat with an official
The six-member assembly of the newly created Ayawaso West Wuogon Municipal Assembly in the Greater Accra Region, failed to confirm Sandra Owusu Ahenkorah as the Municipal Chief Executive (MCE) for the area.
At the Assembly's confirmation process which was conducted by Kwame Amoah, Director, EC and held at Erata Hotel, the nominee was unable to make the 2/3 majority votes by law.
She pulled a 'Yes' vote, four 'No' votes and 1 abstention.
The programme was observed by the Greater Accra Regional Minister, Ishmael Ashitey.
The general atmosphere at the hall was one of great disappointment.
"We plead for development. How can we have it if we behave this way," a worried observer remarked.
Okaikwei North
Members of the Okaikwei North Municipal Assembly on Thursday confirmed the president's nominee, Boye Laryea, for the position of Municipal Chief Executive (MCE).
Mr. Boye polled an overwhelming 14 votes out of the total 14 ballots cast representing 100% to confirm him as the newly appointed MCE.
Giving his inaugural address after the swearing in, Mr. Boye thanked the assembly members for the confidence reposed in him as well as the President, Nana Akufo-Addo.
He stressed that the massive endorsement by the assembly members is the beginning of an effort to transform the Municipal Assembly to be the best and an example of excellence for others to follow.
''It will not be easy, it will require sacrifice, commitment beyond the call of duty, but together, we will achieve it'', he affirmed.
He added that the assembly will greatly improve its partnership with the community for development and also bring the assembly to the door step of the people.
The newly elected MCE declared that through innovation and creative strategies, the assembly will introduce steps to improve its efficiency and effectiveness.
''We will create a comprehensive data base of all lands and property in the municipality; install a website and establish a mobile application for the average citizen to have easy interaction with the assembly'', he disclosed.
He urged all members of the assembly to rise up to the challenge of transforming the community and creating a model municipality for all.